Gr8ful Eight 2016
Posted by
Ashka
on Mar 19th, 2016 |
Comments Off

on Gr8ful Eight 2016
Puppy Videos
The Parents
"OFA" is the Orthopedic Foundation for Animals
"CHIC" is the Canine Health Information Center

Back to the top
Let's Get this Party Started
In January 2016, we decided to breed Bella's sister Addie (CH Blue Fairy's Paper Moon). She came in heat on New Year 's Day and the timing could not have been better. At almost 4 years old, Addie was strong, healthy and ready to take on maternal duties. We bred Addie in mid-January to Dustin (CH MagicWood's Tribute to Scentasia) and an ultrasound in mid February confirmed her pregnancy. The countdown has begun. We were anxiously waiting for X-ray to get puppy count and prepare for whelping. On day 59, we were excited to learn that there were 8 puppies getting ready to arrive around St. Patrick's day. Good time to enter to the world 🙂
Eight is Great!
March 17, 2016
Addie has been restless all morning on St. Patrick day. At sunset, she settled in the whelping box. We were ready! The first puppy was born at 9pm, black & tan female. We had to wait for more than one hour for the second one, another female, light brown this time. The boys joined the pack shortly afterwards: one black & tan and one wheaten/brown. Very cool! After a short break, Addie delivered 4 more girls, all black and tan. Good Addie.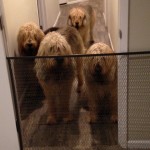 Our adult hounds knew exactly what was going on, but they respectfully kept their distance, as long as the door to the bedroom was opened and they could take a peek and participate. The whole Pack was ready to welcome new family members. Mamba positioned herself closest to the gate we setup at the door. Ozzy stayed close, but was ready to jump up and help when he heard Addie in distress. Bella was very curious – after all, her puppy left in January. Even Leeloo got off her couch and be part of the experience, ready to be a GrandMa again!
Week 1: It's a Meal
March 18-24, 2016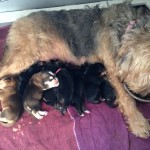 After excitement of whelping, we started settling into our new daily routines. Addie has been a wonderful and caring Mom: committed to keeping her kids fed and clean. My role was to provide assistance & support and I was happy to become her butler. My duties include serving food and water. With growing "milk production" needs, came additional meals and large quantities of water. Addie has been eating four meals per day now, in the whelping box, while nursing the puppies. She'd rather go hungry than leave them. Let's not forget the less glamorous tasks: whelping box and backup puppy cleanup. I'm ready!
From the very first moments of their lives, our puppies have been strong with very healthy appetites. It's been a treat to watch them nurse. The noises and enthusiasm are priceless. The goal during this first week was to make sure all puppies get their nutrition and consistently gain weight. We were pleased to see that everyone gained almost a pound. Good puppies! Good Mom Addie!
On the fun front, we started seeing personalities develop. This is a very vocal bunch, especially around meal time. No surprise: the girls are a bit louder 😉 Patience is not their virtue and when they don't see their Mom after a nap, a panic sets in and a lot of noise comes out: "I'm hungry Mom.. NOW!!". The black boy is a silent type, he rarely makes a noise and rather spend his energy on getting to the most strategic nursing position. His brother, is less patient and sometimes makes a noise. Puppy tails tell the tale of yummy treat and fierce competition. But.. These bursts of energy are followed by an immediate nap. We call it "milk coma".
Towards end of the week, Addie was very happy to have a visit from her human family and show off her puppies. What could be better than puppies and kids! Happy hounds and happy humans 🙂
Week 2: Who Is Who
March 25-31, 2016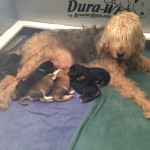 Second week with the puppies can be described as "getting to know each other". With puppies spending most of their time sleeping and nursing, we had a chance to watch them evolve from little hippos into tiny dogs. Amazing process.
Addie is a very attentive Mom. However, towards the end of week 2 she started taking naps outside of the whelping box. She also decided to join the Pack for daily walks and at meal times. I guess she was ready for some "ME" time 😉
So who is who..?
#1 Female, Black & Tan. She was born right at 9pm, after just a few contractions. She is pretty dark with white spot on her chin and white markings on her chest. She loves hanging out close to her Mom.
#2 Female, Wheaten. Her coat has a slight blond/golden shade to it. She has beautiful dark markings around her eyes and a white tip on her tail. Easy to spot when puppies are nursing. She made us wait almost hour and a half for her arrival.
#3 Male, Black & Tan. First born boy! Dark and Handsome. I call him my black stallion. He is very handsome already with wavy coat around his shoulders and neck. He just might out-handsome his uncle Oz. Who knows!
#4 Male, Wheaten. Looks very much like his older sister, except his coat is slightly darker and has more tan/brown shade to it. Classic wheaten with beautiful markings on his face. Just like his uncle Waylon (Blue Fairy's Lord of the Rings) !
#5 Female, Black & Tan. This girl was the only one in the litter with the reddish-brown makings on her muzzle and legs. Very vocal coming out and less vocal after getting her tummy full. Pretty puppy!
#6 Female, Black & Tan. Born with all white feet! Very cute and easy to spot. Can't miss these tiny with feet in action when nursing or sleeping. It will be fun to see if they will stay white as she grows.
#7 Female, Black & Tan. This girl was hard to distinguish from her sisters. She has slightly reddish tint to her muzzle hair and a nice V-shape mark on her chest. We decided to put a little blue collar on her so she can be spotted right away.
#8 Female, Black and Tan. The last girl arrived in style! Vocal and strong. She has a white stripe on her head and pretty white chest. She has been active from the start. Reminds me of her Mom Addie. Only time will tell..
Now that we got to know the puppy pack, all we could do is watch them grow every day and wait for the beautiful eyes to open. Each day, their mobility has been getting better. Wobbly steps, wobbly butts. Very very cute. All puppies have a healthy appetite. Wobbly or not, they can't get fast enough to their Mom for a meal. It is becoming a challenge for all of them to nurse at the same time – simply no room "at the table". We started feeding them in shifts to make sure everyone gets enough to eat. Thankfully, their weight has been increasing consistently every day so we must be doing something right! Addie has been enjoying extra meals and producing abundant amounts of milk, enough for all puppies. We just have to help with logistics! Fun job for a doggie butler 😉
Week 3: We Sure Need a Bigger Box!
April 1-7, 2016
Week 3 has been extraordinary. We were watching puppies' development with an awe and amazement every day. We could already tell at the end of week 2 that the eyes were ready to open. Small slivers of light were a good sign that the world was about to change for the puppies and all of us.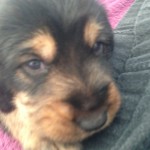 The moment these beautiful eyes opened, our puppies transformed almost overnight from tiny helpless creatures into fully functional little dogs. Ears and hearing came next. We noticed that the puppies could hear us talking and the big dogs barking. Scent instinct has been there from the very beginning: they could smell their Mom Addie approaching and with the eyes open it became a challenge to trick them into taking turns at meal time. Once they've seen their Mom, they all were ready for action. Wobbly steps were becoming more confident. Overall body coordination was improving tremendously with every movement. The best part was watching the puppies recognize each other. It all started with chewing and suckling on each other's noses. Then, came the "paw" movement and hopping around. Suddenly, we were in the middle of puppy play time. Priceless!
Addie has been spending more time outside the whelping box, napping close-by and visiting for a meal every couple of hours. The whelping box became just too crowded for her and her ever growing pups! Addie knows her duties well. She is still on maternal diet – her nutrition is critical to the healthy development of the puppies. She just knows when puppies are going to be hungry and need a little cleanup. Great Mom! Addie also has been joining the Pack on walks and a beach run. Getting back in shape!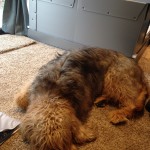 Ozzy has been waiting patiently to meet the puppies. His patience and good behaviors earned Addie's trust. She allowed him to watch closely as she nursed the puppies and even let him do the clean-up. Addie and Ozzy have been spending the last few nights sleeping close to the whelping box and each other. What a team! Mamba and Bella have been curious about the puppies but respectfully kept their distance. Occasional "sniff" is good enough! Leeloo is still not too interested. She knows that puppies will invade her personal space soon enough. Oh yeah.. big changes are right around the corner!
This week, we finally settled on puppy names. We decided to go with the Irish theme, since the litter was born on St. Patrick's name. Here they are 🙂
#1 Female: Rachel       #2 Female: Nessa       #3 Male: Colin
#4 Male: Lucas               #5 Female: Tara
#6 Female: Megan       #7 Female: Cordilia     #8 Female: Bridget
Week 4: Toy Time
April 8-14, 2016
Week 4. What an adventure! Puppies have been maturing fast. Too fast I thought at times. Caring for tiny blind creatures was much easier. Suddenly, we had 8 little dogs running around and having good time discovering the world and being cute at the same time. Tails wagging, growling, barking and more. Puppy fun!
With eyes and ears wide open and tiny legs fully operational, our daily schedule started to include more and more play time. The puppies got really good at chewing at each other and it was time to add some toys and new objects for them to explore. It was fascinating to see their curiosity in action. Nose first of course.. teeth next. Oh yes, this week the teeth started coming thru and in just a couple of days we could clearly feel needle-sharp puppy K9s. Cute and deadly at the same time.
Nessa, Megan and Tara were the first puppies to show interest in toys. The rest of the puppy pack was more interested in wrestling with each other and running. They learned how to use their legs quickly and wobbly steps turned into jumping and running almost overnight. Amazing transformation.
Addie continued to care for the puppies, patiently nurse every couple of hours and seemed not to be too concerned about the teeth and nails. Puppy toe nails are sharp and we have been trimming them since puppies were 2 days old, just to make nursing less painful. Addie also started playing with the puppies, as part of the nursing routine. Her big smile was telling us she loved every minute. It was also easy to see that the puppies were outgrowing the whelping box. It was getting more challenging for Addie to fit in the box and for puppies to stretch their legs. Big changes were just around the corner!
Week 5: Evolution
April 15-21, 2016
Week 5 can only be described in one word: evolution (or revolution! LOL). Puppies reached two big milestones and expended their world: we started transitioning to dog food and setup a day-time play pen in our living room. New diet, new smells, new noises and new pack members. Big, big week!
Weaning is a natural part of raising puppies. Exciting and not so exciting at the same time. As weaning starts, Moms usually step back and gradually stop nursing and cleaning the puppies, shifting these tasks to the humans. Fun? Maybe not so much when cleanup is concerned 😉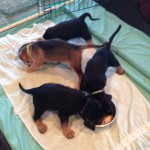 Transition to dog food was gradual. The first few meals were pretty simple: rice cereal, goat milk and goat milk yogurt. Lapping liquids was a piece of cake! We divided the crowd into 2 groups of 4 and let them have some food fun. Puppies said "Yum!".
The next step was adding ground dog food to the mix. We picked Blue Buffalo Wilderness Large Breed puppy food. We like the quality of the ingredients, calorie count and nutritional values. Plus, we got great results raising our 2 previous litters. Good stuff! Puppies agreed again.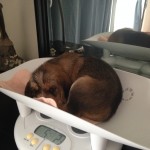 Food was disappearing from the dishes in seconds. Great eaters already.
Within just a couple of days, we split the puppy pack again during meal times. Now, they were eating in pairs. Better fit and more food for everybody. Individual bowls are coming up. LOL! The results were instantly visible. At 5 weeks, the boys Lucas and Colin were approaching 8lbs and the girls were not far behind. Growing up fast.
The second big change this week was an upgrade to a new bigger play pen. Addie and the puppies all needed more room to play and "stretch". Running seemed to be puppies' favorite entertainment. We even had to clear a path for them, so they didn't trip and fall trying to get around the toys. Very funny! Chewing became an obsession. No surprise, as these little teeth are all out and gums must be sore. Puppies were chewing on toys, their Mom, us humans and each other. Wrestling became more serious – all puppies were testing their limits and we often heard noises of pain, frustration and payback. Puppy wars! All part of their learning.
Addie continued her visits to nurse and play. She now prefers to stand up while nursing and puppies are all strong enough to assume "squirrel" position and nurse all at the same time. It a fascinating process. However, we also started cutting down Addie's food back to maintenance, so her milk production is now getting lower. She's definitely misses her extra servings, but I'm pretty sure these teeth and claws will be too painful to handle any day now. On the bright side, she has been running the most awesome puppy day care! Just hanging out and playing with her puppies. What a great Mom!
Week 6: Puppy Wars
April 22-28, 2016
Week 6 was all about fun. Puppies were having good time, indoors and outdoors. Big, strong creatures and ready to face anything! We started the week with a photo session. Nice & sunny weather, play time with kids and visitors, why not get a second round of head-shots 😉 Looking good!
Rachel                             Nessa                             Tara
Colin                             Puppy Pack                       Lucas
Megan                             Cordilia                           Bridget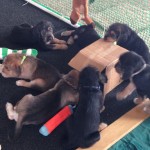 Constant play time became a habit. Games became more vocal and more vicious. Everyone was looking for their place in the pack and learning to tell each other when playing got too rough or painful. Playing tug, sharing or better yet stealing a toy from each other is the name of the game. A lot of growling, barking and squealing. We do have some talkers already! Nessa and Tara are not shy in expressing their opinions. Wimpy barks for now, but these could be hound singers in training. Time will tell.
This week we also introduced our puppies (and the big dogs too) to the new outdoor play area. After all, their indoor play pen was getting way too small to meet their need to run and play. Their little feet seemed to be always on the move and teeth.. well.. teeth just had to chew on anything and anybody. Variety was the name of the game. They enjoyed new things we let them chew: leather belt, plastic bottles and hanging toys. Cardboard boxes became a big hit: they were fun to chew and even more fun to climb on. Entertainment all day and all night long!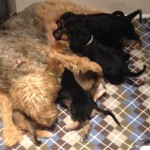 Addie was very pleased with more space to interact with her puppies. She had a tough choice to make every time she got close to the puppies: nurse or not to nurse. Nursing has become painful as puppy teeth were getting sharper every day. Yet, she continued to "visit" several times per day to give them a milky desert, preferably after their main meals. Puppies now were enjoying 4 meals per day and everyone gets their own bowl. Kibble, goat milk yogurt and hot water. Simple & yummy. No room for picky eaters. Feeding time is full of excitement and logistical challenges. Food is disappearing within minutes. They are growing!
Towards end of the week, we had to upsize the indoor play pen and add a second crate. As much as the puppies enjoyed getting into their "puppy pile" they also liked stretching out and one crate was just not big enough. How crazy is that..? What happened to my tiny puppies..? Who were these cute cute cute little dogs? The most amazing transformation!
Week 7: Grown-Up Things
April 29-May 5, 2016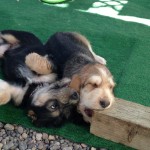 Growing up is a fascinating process for little dogs and humans too. Week 7 usually means big appetites, less napping and more play time. Chewing became an obsession and a game. Sharing a toy, a towel, a stick or even a lief was an excuse to play and chase each other. Hard to believe how fast they run! Hard to tell if they were following their noses or eyes, or both at the same time. Curiosity was growing too. Always interested in things on the other side – the other side of the fence, or the door, or the play pen. Typical Otterhounds!
We were challenged this week, because of the weather. Rain and cold in the forecast forced us to keep the puppies indoors. Pretty tough considering their size and energy requirements. Plus, the puppies got used to the new bigger space outdoors and suddenly, their "giant" play pen was not so big after all. We, the humans, had different considerations. Cleanup comes to mind 🙂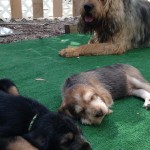 Our outdoor play area became very popular with the big dogs. We setup rugs and space for everyone to move around and hang around. It worked! Ozzy, Bella and Mamba have been visiting with the puppies on regular basis. They are curious and fascinated at the same time. However, they never stayed for long! Sharp teeth and sheer enthusiasm of 8 crazy puppies may have been too much at times. Only Addie has the patience. She still allows puppies to nurse. I don't know how she does it, but she does. Great Mom!
At the end of the week, puppies faced yet another challenge: visit to our vet. It was time for their first round of vaccines and the overall checkup. We also had their blood drawn for the Otterhound Epilepsy Study at University of Missouri. Taking care of business! But first, we had to get there. Riding is our truck was a new (and messy) experience. Nothing a few towels and water couldn't handle. Addie provided needed reassurance on the way. Piece of cake! Next time will be better I'm sure.
Our vet and his staff loved the puppies! How could they not? These ears and eyes are simply irresistible! Puppies enjoyed the attention and never stopped wagging their tails, until it was time for the blood draw. They did not like that at all. Fortunately, it was over very quickly and they were back in the truck with their Mommy in just a flash. Good troopers!
When we got home, puppies quickly forgot about the "stressful" experience and happily returned to their daily routines: starting with a healthy lunch, serious doze of mayhem and a healthy nap. They even had enough energy to pose for pictures! Good puppies 🙂
Rachel                             Nessa                             Tara
Colin                             Puppy Pack                       Lucas
Cordilia                           Megan                           Bridget
Week 8: Fun Continues
May 6-12, 2016
After somewhat stressful conclusion of last week, week 8 was all about fun and good times at the Blue Fairy headquarters. All puppies grew significantly since we welcomed them to the world. The boys Colin and Lucas are not over 16lbs each and girls are not far behind. They are fully functional little dogs, ready to take on the world. We also had a chance to get to know their personalities. All puppies are confident and sweet at the same time. Some more than others 😉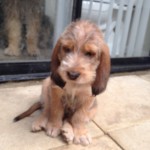 Rachel is a diva. Confident and happy. She never starts troubles, but if the play gets rough, she knows how to handle herself. Princess in action!
Nessa is a talker. She likes to share her opinions with her siblings and the world. She's very girly and easy going. And let's not forget her most giant ears! Spectacular!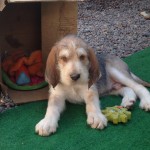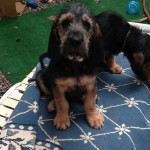 Colin is a sweetheart. This boy would love to spend all day on my lap, watching the mayhem his brother and sisters were causing down below. He's special!
Lucas is a leader. Calm, confident and playful. Perfect combination. His appetite for food and life are fun to watch. No suprise he is our biggest puppy! Good boy!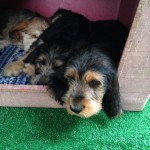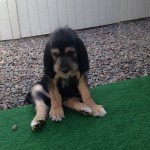 Tara has always been very vocal, playful and assertive. She often leads the play and is the last one to fall asleep. Pretty girl.
Megan was one of the most energetic puppies at the very beginning and now, she just mellowed out and is always looking for a human attention and a hug. Great lap dog!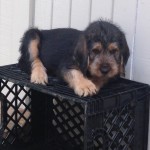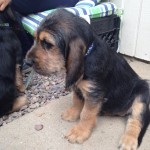 Cordilia is very much like her GrandMa Leeloo: interested in exploring the world and just "hanging" out. Flower child.
Bridget is a puppy on a mission. She is inquisitive and brave. Nothing can stop her nose and curiosity to explore her surroundings. She's always been the first to check out new things. Great leader!
We ended the week with a bath and spa treatment. Part of getting puppies ready to meet their new families. Surprisingly, they handled this new experience very well. Great little dogs! They keep making us proud every day. They are social and even tempered. Ready to face the world. Bringing smiles and a lot of joy to everyone around. Breed ambassadors already.
Week 9 & Beyond: New Chapters Begin
May 13-27, 2016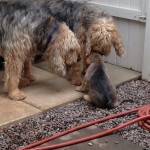 Week 9 is always the toughest. Thats when puppies usually leave Blue Fairy Headquarters to start their lives with new families. Bitter-sweet. In the meantime though, we make sure we all have a lot of fun. Mayhem everywhere! Addie and Ozzy have been the best puppy-sitters. They've become quite "parents"! Addie has been providing non-stop entertainment and Ozzy focus on guarding and corrections. Only boys Colin and Lucas dared to talk back to all-mighty Oz! Fun to watch these tiny puppies barking at their 110lb Uncle 🙂
Megan was the first to leave the puppy pack. She handled trip to the airport like a pro! Awesome on the leash and a super-star on the plane. She will now live in Seattle and her new name is Zelda.
Two days later, we said our farewells to Tara. She left to Ohio to join a pack of Irish terriers. No doubt in my mind she will win them over in no time. Humans fell in love with her instantly 😉 Her new name is Lily.
Nessa was the third puppy to get onboard of a plane. Her destination: Illinois and a Keeshond named Mia. It was a long, uneventful flight and a long nap for our puppy. She arrived safe and sound and was welcomed by her new owner. Her new name Poppy fits her well.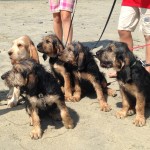 With 5 puppies left, there was only one think we could do to brighten up the mood: take the whole pack to the beach! It has been our tradition to take Blue Fairy puppies to the beach before they leave to their new homes, however, trip with 8 puppies and 5 adults was a bit too challenging. But now, with 3 puppies gone, taking "only" 10 hounds on a beach adventure was a piece of cake! LOL Addie's humans joined us and provided very much needed help. Every puppy got their own handler and we all had a blast. Puppies were amazing! They adapted to the new environment and walking on the leash in minutes. They were social with people and other dogs. It was an awesome day!
On Friday, two more puppies left "the nest". Colin left to Georgia and Cordilia – to Montana. Tough day! The good news is that they both will be keeping their names 🙂
The remaining puppies had a blast in our main yard. A lot of new terrain to explore, smell and chew. Expending their world. The puppies also "met" the pool. Fortunately, nobody fell in. Good times!
On Sunday, Lucas left for Wisconsin. I was a bit concerned because as the largest puppy, he barely fit in the carry-on bag. Thankfully, everyone was smitten by his charms and not the size. He made it to his new home safe and sound. His new name is Floki. Great Viking name!
And then there were two! Bridget and Rachel enjoyed the last 2 days together. Our house suddenly seemed very empty and quiet. I dont think they noticed though. Their days were filled with playing with each other and learning all about plants, sticks and dirt. Easy entertainment!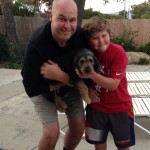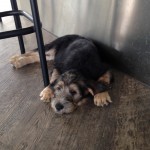 Then, one more "good bye" 🙁 Bridget left with her new owners to Colorado. Long drive this time, but Bridget has always been about new adventures.
Rachel stayed behind and became the newest member of the Blue Fairy Pack. Unlplanned development, but pretty predictable. How coud anyone resist her charm..? Fun continues 🙂