Posted by
Ashka
on Nov 5th, 2010 |
Comments Off

on Phoebe – The Charmed One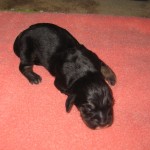 Phoebe was born in fall of 2012. In January 2013 she decided she would join the Pack and stay with us. Why not? We should not have been surprised that one more Blue Fairy puppy stole our hearts and find a way into our home 🙂
Phoebe was the fifth puppy in Mamba's 2012 Halloween litter.. She made us wait for her arrival and got us a little scared in the process. When Mamba delivered the first four puppies and contractions stopped, we rushed to our vet. After a pitocin shot, Phoebe was born at no time, weighing in 1lb 7oz.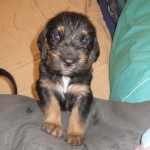 Big puppy!
For the first 4 weeks, Phoebe was simply one of the puppies: happy, playful and social. As puppy personalities started to emerge, puppy number 5 started to stand out. Maybe because she reminded us of her Mom Mamba at the same age. The owl-like mask and black eyeliner were unmistakable. However it was Phoebe's temperament that impressed us the most. She had great social skills when interacting with her littermates, our adult dogs and visiting humans. We watched her often chewing a toy right next to Bella or Ozzy, enjoying the moment and respecting their personal space. Smart puppy!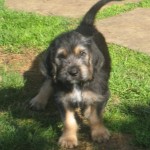 When it was time to make placing decisions, it became apparent that Phoebe was a keeper and a great fit into our Pack. Another emotional decision. Not very practical! However, watching Phoebe, Bella and Ozzy play together every day only confirmed that we made a right choice. The Pack was complete 🙂
Phoebe was fortunate to always have Bella as a perfect companion and the best friend. Bella had the patience to put up with Phoebe's puppy teeth and energy to keep up with her curiosity. It was hard to tell sometimes who came up with the digging idea or who dragged a stick into the house. Both Bella and Phoebe look equally guilty and equally happy. Some mornings, Ozzy would join the girls for a little 'tug' game with a toy or a towel. Growing up Otterhounds are surely a lot of fun to watch!
The Name
It has been our tradition to use movie titles as the AKC registered names for our puppies. Mamba's litter was born at the end of October and at first, we were exploring Halloween themes. Call name was easy! Phoebe was one of my favourite characters in TV series "Charmed". However, horror movie titles were just not a good fit for our sweet and always happy puppy girl. Then, we remembered "Legends of the Fall". Not a scary movie, but definitely one of my top 10! Great story, great characters.. plus, you can't go wrong with a Brad Pitt movie 😉 Celebrating our Fall 2012 puppies!

The Talents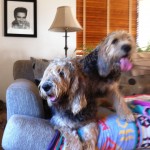 Phoebe's greatest asset was her temperament: happy and always eager to please. Truly a "people dog" and a perfect companion. Her tail never stopped wagging and she was always interest in staying close to us to get a cuddle and tell us all about her day. Literally! She was a talker! Phoebe's mission was to make friends everywhere we went. At the beach, she would make social stops along the way to get a quick scratch, sip of water or a treat sometimes. She'd drop her ears and give a big Otterhound smile, thrilled to make new friends and irresistible 🙂
Phoebe was a good student at her Puppy and Beginning Obedience classes.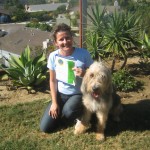 Early obedience training has been our Blue Fairy tradition. Socialization is critical for a young puppy and basic commands come in handy on daily basis. "Come" command is the most important when working off leash and Phoebe was responding to it well. She preferred to stay close and always came when called. "Sit" was a piece of cake, "Stand" was doable but "Stay" was a challenge. Her curiosity was just too strong! In November 2013, Phoebe passed her test for Canine Good Citizen (CGC) and got her first AKC title. Good girl!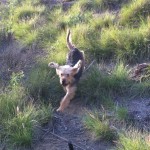 Phoebe's scent instincts were strong. When we first took her to our neighbourhood field to chase rabbits she followed Mamba and Bella for the most part. She was not too sure what the excitement was all about. However, over time she started tracking on her own and gained confidence to follow her nose and find her way back to the Pack. It was always fun to watch the tip of her tail moving around the bushes and big smile running down a hill! Flying Otterhound!
Phoebe's greatest talent was her voice. She was silent for the first 10 months of her life.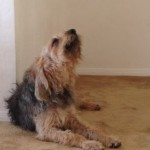 Then, she spoke and our life was never the same. Phoebe had a lot to say! She would let Ozzy know when someone was approaching the house: human, dog or a bird. Riding in the truck was not a reason to be quiet either. If there was movement, there was something to talk about and nothing could stop our Phoebe from telling us the whole story. She had a beautiful voice and we gladly listened to it. Most of the time 🙂

The Dog Shows
Confirmation was a piece of cake for our Phoebe. After the first few classes and dog shows, she realized that it was all about interacting with people and getting treats for it. Easy! She was proud and happy to show off her smile to judges and spectators. Phoebe started her show career in summer 2013 and joined the Blue Fairy Championship Club in July 2014.
Life with Puppies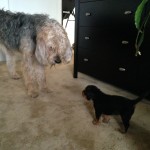 In September 2014, we welcomed our singelton puppy Khaleesi. Phoebe was very confused with the arrival of this small, squeaky creature and she definitely did not understand what the fuss was all about. But, she decided to give it time and explore all options. Her social instincts told her it could be fun! The first 4 weeks things were easy. The puppy was small, fairly immobile and fiercely protected by Leeloo. Phoebe would keep her distance, but take every opportunity to get closer and smell the new Pack member. When Khaleesi started to walk, Phoebe quickly found out that the puppy was just too small, too slow and too fragile to keep up.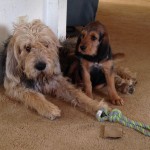 Then, when Bella started caring for Khaleesi, Phoebe suddenly realized that her best friend had no time to spend time with her. Actually, everyone was paying more attention to this new puppy who suddenly took over her world! Heartbreak! But there was not giving up! In week 9, Phoebe finally accepted that this new doggie was not going away and it was time to become friends. She took over morning puppy-sitting duties from Bella, started playing around and even sharing toys. She was almost disappointed when Khaleesi left just a week later.
The good news was that our Phoebe regained her Pack Puppy status and she LOVED it! So did we. After all, Phoebe always was and will be a big Puppy at heart 🙂