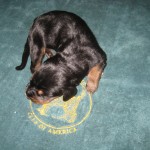 Bella is the Pack Princess. Yet again, we were not planning to keep a puppy from
Leeloo's March 2012 litter
but the Universe had different plans. Bella was the last puppy born. Weighing only 1.18lbs, she was the smallest of her littermates, but equally active and very vocal. From the very beginning, Bella was a happy, easy going puppy. No agenda, no missions, just a mellow hound, happy to be part of the pack. Very much like her Mom Leeloo.
As time went by, she slowly became our favorite: great temperament, fabulous ear set, coat and overall physique.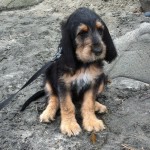 We made a decision not to place her in another State and started searching for a 'perfect' home locally, in a Southern California. Our goal was to have the ability to watch her develop, show in conformation ring and hopefully, breed in the future. It was not until week 8 that we finally gave up and let her stay. Not an easy decision from a practical stand point, but emotionally she won our hearts around week 4. We were just looking for an excuse to keep her. I guess Bella found a perfect home after all 🙂

Bella is a fun loving hound. She enjoys daily mayhem with her best friend and the most favorite chew-toy Ozzy. We are amazed how well they play together, considering size and weight difference. As a puppy, Bella would make marks with her razor-sharp teeth on Ozzy's ears, neck and shoulders. For Ozzy, it was a low price to pay for a full-time playmate. With time, their bond got stronger and puppy games evolved into racing and wrestling. Ozzy is Bella's idol and she wants to be just like him – for good or bad. He taught her how to swim, dig and howl and she is always ready to follow his lead.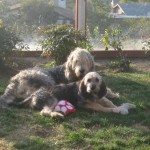 In January 2013, after helping to raise Mamba's 2012 Halloween Puppies, Bella transitioned to being the "Big Sister" and a full time playmate to Phoebe. Bella's new responsibilities included potty/doggie door training, daily yard explorations and toy selections. Great teacher and the best chew-toy for Phoebe's puppy teeth. It must have been a payback for her times chewing on Ozzy. Bella performed her new duties with joy and enthusiasm. Never too tired for a run or a good game of tug with a toy or a towel. Bella and Phoebe were best friends and playmates and watching them entertain each other never got boring.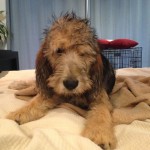 2016 brought another change in pack dynamics: at the beginning of the year we bred Bella's Sister Addie (CH Blue Fairy's Paper Moon). In March, we whelped and raised Addie's Gr8ful Eight Litter and somehow, one of the puppies stayed behind 😉 Hello Trouble! Hello Rachel! Bella, as expected, stepped up to the new challenge of raising yet another addition to our Pack. I have to admit that her interaction with the puppy is a bit different this time. Bella is now more of a teacher and companion, than a playmate. At 4 years old, Bella has less energy and interest in never-ending-play. Rachel is demanding and dominant, so Bella usually chooses the times and ways to meet her demands, with skill and enthusiasm. Her smarts and temperament are simply remarkable. Amazing hound!
The Name
Bella was born at dawn following a very challenging delivery. It took her almost 4 hours to come out. We were working hard with the vet Belinda to help Leeloo throughout the whelping process and the arrival of the last puppy was truly a labor of love. Breaking thru to the 'otter' side, as the sun was rising. Pretty cosmic! We initially called the puppy Belinda, after the vet who delivered her, but over time the name got shortened to Bella – the main character in the book & the movie Twilight Saga: Breaking Dawn. Very fitting!

The Talents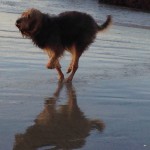 Bella has many talents and I often call her the best hound we've ever bred. She has the combination of Leeloo's laid back personality and Mamba's eagerness to perform. Bella has a lot of charm and enthusiasm for life. She loves meeting people, especially kids. She seems to recognize their voices from a distance and she immediately gravitates in their direction wagging her tail and giving them that big Otterhound smile. Bella is also very playful with other dogs. She easily makes new friends at the beach and always picks a partner for playing 'catch me if you can'. Her speed and agility are surprising for a hound of her size and she wins almost every race.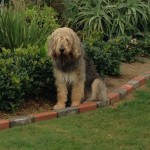 Bella is extremely smart. We are constantly amazed how fast she learns and we give her every opportunity to succeed in obedience, agility and NoseWorks.
We started with Puppy Classes to get her "paws wet" and she earned her S.T.A.R Puppy Medallion at only 3.5 months old. Good Canine Citizen (CGC) title quickly followed. There were tense moments during the CGC test when it was time for a "down" command in a wet grass. Loose leash walking was equally tricky when then nose wanted to sniff the ground, but at the end, we passed with a perfect score.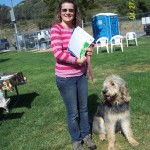 Good girl 🙂
In Spring 2015 we started training in Rally. In my past experience, the toughest part is to keep an Otterhound entertained with repetitive obedience commands that they know well while the grass and the scents all around are so much more fun! Bella has been doing extremely well at our classes and conquered all stations and "maneuvers" with enthusiasm. No question she had the skills. My job was to follow the signs and keep her attention. Check out our training video below! In June 2015,
we entered in our first Rally trail and to my surprise, we completed Rally Novice title requirements in just one weekend with amazing scores of 97, 92 and 97. In December 2015 we received an invitation to participate in the 3rd AKC Rally National Championship. Bella was the only Otterhound invited to the event. We were very very proud!
Bella is our first Otterhound to test her skills in Agility. She has always been the most energetic and agile hound in our Pack, so we decided to give it a try.
It was a learning experience for both of us. Bella enjoys jumps, tunnels and the weave. I wish I had pictures or videos to show her in action! There were a few obstacles that she did not like. It took us weeks to conquer the "A" frame and "the walk" is still a challenge. It will be a long long time before we are ready to compete. In the meantime, it's about good times together.
Bella's scent instincts are strong. It's fun to watch her work the field following rabbits or other smells that catch her attention.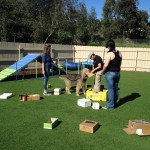 She never slows down and has unbelievable energy to search on her own and keep up with the rest of the Pack. We recently introduced Bella to NoseWork and she quickly showed that finding a treat is not really a challenge. Following her nose and getting treats was a piece of cake. Enthusiasm for anything and everything at all times. Perfect companion!
In 2018 we discovered a new "nose" challenge: Barn Hunt. In Barn hunt, a dog is tasked with finding a rat hidden in a plastic tube and covered with hay.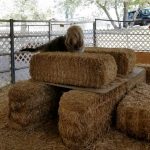 The dog has to use the nose to find the rat and indicate the location to the handler.
With a solid foundation from Nose Works training, Bella got the idea very quickly. In only a few weeks, she made a great progress and we hope to get her ready for her first trial by the end of the year.
Bella truly is the most versatile Otterhound we have bred. Smart and beautiful. A perfect companion and a great performer. And let's not forget the curls and the super-long eyelashes! She's got it all. My Princess 🙂
The Dog Shows
Bella is phenomenal in the show ring. She must have inherited a special gene from her Grandmother Emma (GCH Scentasia Double Trouble) who is in the Otterhound Hall of Fame for her accomplishments in conformation, including the Best of Breed at the 2008 Otterhound National Specialty and multiple Best in Show titles.
Bella was started conformation classes at 7 months old and we knew from the very beginning that she was a natural show dog material.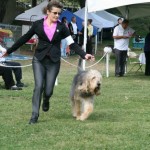 Her movement is flawless. It's stacking and standing was a challenge, but with time she mastered standing still like a statue. The toughest part in conformation is to keep Bella calm and not let her enthusiasm take over. Judges don't always appreciate a jester in their court 😉
Bella's ring début was at the Hound Show in Indio, CA in January 2013. At 10 months old, she won her first 4-point major, Best of Winners and Winners Bitch titles two days in a row. Made us proud! Summer 2013 was full of fun competition. Bella continued to improve with every show and having good time doing it.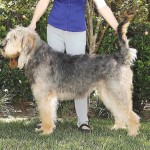 In February 2014, she won her second Major and became the AKC Champion. Competing in Best of Breed competition throughout summer 2014 proved to be both challenging and rewarding. By September 2014, multiple Best of Breed wins put our Bella in the top 5 Otterhounds in Breed Rankings and #2 Female Otterhound in the country. She became the second Blue Fairy Grand Champion in December 2014. Well-deserved and no surprise.
In January 2015, Bella returned to the Hound Show in Indio, CA and won Best of Opposite title. She lost only to our Ozzy (GCH Blue Fairy's Wizard of Oz) who took Best of Breed. Good day when 2 Blue Fairy hounds take the top prizes! The winning streak continued througout spring and summer. In May 2015, at Mt Palomar Kennel Club show, Bella not only won the Best of Breed but also received the First in Owner-Handler Hound Group placement. Good girl Bella 🙂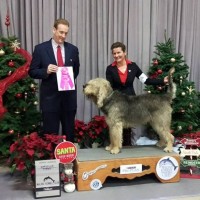 In 2016, at 4 years old, Bella has been in the top shape and performing exceptionally well in the show ring. In March 2016, Bella got her IABCA International Championship title. In August 2016 she competed at the 35th Otterhound National Specialty weekend in Greeley, CO against 42 top Otterhounds in the country. Results: Best of Breed at the Rocky Mountain Hound Club and Select Bitch award at the Specialty show. We ended the year with two Owner Handler Group placements, including Group 1 win and participation in the Best is Show ring. Invitation to Westminster Dog Show 2017 was a bonus. Great honor!
The final ranking for our Bella in 2016: #1 Female and #3 Otterhound in Breed Standings.
The Caretaker – Life with Puppies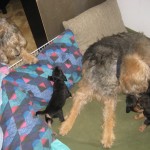 In October 2012, Bella was introduced to the world of puppies when Mamba's Halloween 2012 litter was born. From the very first day she was fascinated with the little creatures and every noise, every move they made. Mamba could not discourage Bella's daily attempts to meet her cousins. Bella became my assistant in daily puppy 'chores'. She would stay close when it was time to serve Mamba's meals in the whelping box. She'd watched the cleaning and changing of the bedding looking for an opportunity to touch a puppy with her nose. After a while, Mamba stopped growling and accepted Bella's constant presence.
When puppies started walking around, Bella didn't quite know how to approach them, but she knew they were more fun than her toys! She was very eager to play and too excited at times. We had to watch her to make sure she did not smack a puppy with her paw. In a short time, Bella mastered her puppy-sitting skills. She was patient and gentle. When her enthusiasm took over, she would simply run a lap or two around the couch and then lay down to play with the puppies again. Amazing! Bella proved again that she is a fast learner 🙂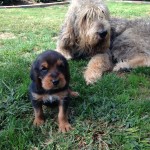 In September 2014, Bella's half-sister Khaleesi was born. As soon as Leeloo allowed visitors to her puppy, Bella was ready to assume her Big Sister duties. She became Khaleesi's constant companion, caretaker and a playmate. She'd keep the puppy clean and entertained. She had patience and creativity with the selection of chewing toys and daily games and never complained too much about the sharp sharp puppy teeth! It never got boring watching the two sisters interact. Bella proved once again that her maternal instincts are strong and one day, she will make a great Mom to her own litter of puppies. We can't wait!

The Mother – Litters Whelped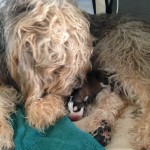 In November 2015, Bella became a Mother to a singleton puppy Charlie (now Wookiee, Blue Fairy's Force Awakens). Wookiee was born via C-section and we were a not sure if our first time Mom would know how to care for her tiny squeaky puppy. Nursing came naturally, cleaning – not so much. But after only a couple of days, she had it all figured out: caring, nursing, cleaning, playing and protecting. Great Mom! For more information and weekly puppy diary, please visit our Puppy Patch: Puppy Diva page.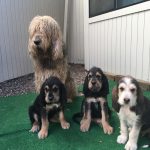 In November 2018, Bella whelped her second litter, this time to 3 puppy boys, our Puppy Avengers. These were the biggest and strongest puppies we've ever had! Bella once again proved to be an excellent Mother and a caretaker. She had enough milk to feed an army and the boys enjoyed every "sip". Bella's calm and happy temperament was passed to her puppies – they were content and playful. Excellent breed ambassadors in the makings. If you'd like to lean more about this litter, please visit Puppy Patch: Puppy Avengers .