Posted by
admin
on Nov 15th, 2010 |
Comments Off

on AKC Canine Good Citizen (CGC)
Canine Good Citizen (CGC) is a program sponsored by AKC that encourages owners to work with their dogs on basic obedience and social skills. It's an excellent opportunity for an owner and their dog to learn how to communicate with each other and create foundation for future obedience training.
Starr was our first Otterhound. When we got her, she was a 3-year old show dog. We decided to go thru basic obedience classes to create a bond with her and improve communication skills. Hounds are pretty independent and getting a message thru can be challenging at times. We started with classes at a local Pet Smart – excellent place to get a dog used to a lot of distractions, noises and respond to obedience commands. The challenge with Starr was that she was not food-motivated at that time.  I had to learn to negotiate.  The good news is that during the CGC test an owner cannot use treats, so it all worked out at the end.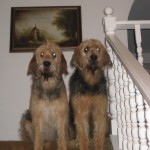 Mamba and Leeloo started CGC preparation at 12 weeks old. We started with Puppy classes to get them socialized with other dogs and people. They were introduced to basic sit, down and stay commands. Beginner obedience followed. Our goal was to create and enforce positive communication with the dogs which is critical in every day activities.  The key to training an Otterhound is to make the dog understand the commands and agree to perform them. They do not respond to any kind of forceful approach: tight leash, harsh tone of voice etc. Sitting on top of your hound will not make him/her complete a "down" command 😉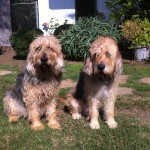 The CGC test with the girls was nerve wracking. It was hot. Lesson for the future to schedule all tests early in the morning, if possible! Mamba wanted to manage the pack during the test and was very vocal about it, a combination of whining and howling. Hard to focus for humand & hounds! Leeloo got bored waiting for her turn and was not interested in following any commands. Thankfully, we started with 'Separation' excersize and not seeing us for 3 minutes got her attention.  Ultimately both dogs passed and made us proud. The first AKC titles!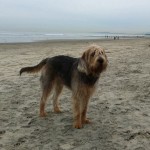 CGC test with Ozzy was a bigger challenge than I thought. It took a combination of "skilled" handling (aka how to trick an OH that you are more attractive than sniffing the ground without a treat) and luck (lots of it!!!) to get it done. My biggest concern was the loose leash walking – hard to keep up with 105 lbs of puppy curiosity on a leash, but surprisingly, Ozzy performed better than usual. What I did not expect was to struggle with sits and downs. Oz loves puppy push-ups and down command is one of his favorites – with or without a treat. Not the case during the test. We were saved by a loose dog who provided a little distraction and re-focused my boy. Miracle!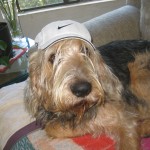 At the last station – Walking Thru a Crowd – Ozzy was introduced to a 2-year old girl and he simply fell in love! He was fascinated but calm – not pulling, not licking just gently following the baby. He could not stop wagging his tail. They were the same height but the size difference was HUGE. The baby was smiling and giggling. Too bad nobody took a picture. Another testament to a friendly nature of an Otterhound and a great conclusion to yet another Blue Fairy CGC adventure 🙂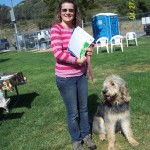 Bella has been preparing for her CGC test since the graduation for her Puppy Class. Training is easy for Bella, she is very smart and 'gets it' quickly. Her downfall is the unsurpassed energy and enthusiasm. We work really hard to keep her calm and focused in obedience and conformation. After all, she's just a puppy! We had scheduling conflicts in early spring and finally took the test at the end of April 2013. Exercise in question was the infamous "Loose Leash Walking". Scent hounds much prefer to sniff the ground and don't pay much attention to the handler attached to the end of a leash. Bella's other Achilles was the 'down' command on wet grass. Who would want to do THAT??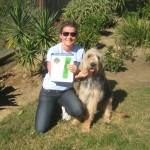 We got lucky at both stations. Got it done 🙂
Phoebe has been the most mellow and easy going hound I've trained. Her attention at the obedience classes was amazing. Even during loose leash walking she would maintain eye contact. Well.. most of the time. I was pretty confident she would pass the GCG test with flying colors. When the time came, there were couple of tense moments, including a sad howl during separation excercize, but she was adorable doing it and made everyone smile 🙂 Otterhounds rule!
Phoebe is the 6th Blue Fairy AKC Good Canine Citizen and an awesome breed ambassador!
Here is the link to more information about AKC CGC program:
AKC Events: Canine Good Citizen