Starr – The Blue Fairy Mother
Posted by
admin
on Oct 14th, 2010 |
Comments Off

on Starr – The Blue Fairy Mother
Facts:
AKC Registered Name: CH Wild West Belle Starr, RN, CGC, VO, ROM
Call Name: Starr
Color: Blue & Cream
Titles: AKC Champion (CH), Rally Novice Obedience (RN), Canine Good Citizen (CGC), Versatile Otterhound (VO), Registry of Merit (ROM)
Link to 5 generation pedigree: OHCA Database: CH Wild West Belle Starr
Starr was our first Otterhound responsible for our falling in love with the breed. Her unique coat color was an inspiration for the name "Blue Fairy Otterhounds". She left us suddenly and unexpectedly in January 2011. We will always remember her enthusiasm for life, smile in her eyes and eagerness to please. She was a pack leader and an excellent role model for Mamba & Leeloo. Most of all, she was a great companion and a friend to us humans. We all miss her very much 🙁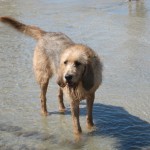 We met Starr at her breeder's house. She ran through a small opening in the kitchen and almost jumped in my arms. She had a big smile – as if she waited for me for a long time. She was 3 years old and full of life. Love at first sight!
It took her a while to adapt to her new home. Everything was new for both of us and some steps were more challenging than others. Ultimately, we earned each other's trust and became a great team. Her joy when we went to the beach for the first time and she discovered the ocean was unforgettable. She was happy.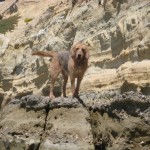 Starr was easy-going and full of joy. She was eager to please and easy to train. We went thru basic obedience and rally training and she proved that you can teach an old dog new tricks! Over time, she built up her confidence and changed from a shy dog into a confident pack leader and a protector. She patrolled the back yard and alerted us when a stranger approached the house. True to the watch dog' side of an Otterhound. The voice was unmistakable and anyone seeing an 85lb dog in a guarding position would think twice before entering without an invitation.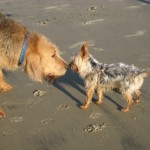 Truth  be told, once the posturing was over Starr was very hospitable to people of all ages.  Once they come into the house she considered them friends and enjoyed interacting with them. She was famous for sloppy kisses!  When we went to the beach or to a dog park, she loveed visiting with people to get some overdue attention and make new friends.  She could smell treats a mile away.  Her nose was exceptional. At the end of the day, we would enjoy TV evening on the couch and cuddles in bed. Perfect companion 😉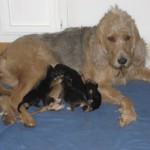 In October 2007 Starr gave us our first litter of Otterhound puppies: 5 females and 1 male. It was an amazing experience and you can read about it by following a link to Puppy Patch: Puppy Stars 2007.
As Mamba & Leeloo's Mom, Starr provided leadership: taught the girls all about house rules (including potty training!) and applied discipline when play between puppies got too rough or out-of-hand. She brought balance to the Pack. Exceptional maternal instincts in action!