Puppy Avengers 2017
Posted by
Ashka
on Dec 8th, 2017 |
Comments Off

on Puppy Avengers 2017
Table of Contents
Puppy Videos
About The Parents
Meet Bella
Bella has always been a very special girl. Her temperament, conformation and eagerness to please make her the most accomplished Otterhound we've bred to date: our first AKC Bronze Grand Champion, #1 Female Otterhound in 2016 and #3 Otterhound in 2017 in Breed Standings. She received multiple invitations to the prestigious Westminster Dog show and Invitational AKC National Championship shows. If you'd like to find our more about our Bella, simply visit her page on our web site.
Breeding was a natural next step. But, she made us wait! Her heat cycles have been very irregular, since we spayed our Matriarchs Mamba and Leeloo. Mother Nature! On the bright side, we had plenty of time to find a Sire that would complement her features and offer great temperament.
Meet Silas
Here is how his owner Jim describes Silas: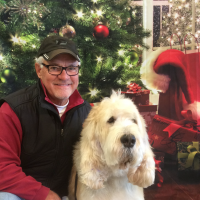 "Silas grew up on Lake Oconee in Georgia. His first real home was a on a giant lake surrounded by four hundred acres of fields and woods where he swam and played daily. He also became proficient at boating ?
As a new puppy to our home, Silas had a brother and four sisters: a retriever named Buddy (still his best friend), an Otterhound sister, Abby, a tea cup Poodle, Mollie, and two female cats, Sophie and Sammy. Abby raised him like his surrogate mother, Buddy showed him all the ropes, and Silas instantly became the protector for the poodle and the two cats. Anytime they went outside, Silas went with them. He even bathed the old cat, Sophie, licking her whole face til she dripped.
Some of Silas' most proud accomplishments include passing obedience school at one, never being in a fight, and siring nine healthy Otterhound pups last year (2015). He is a gentle giant at 140 lbs without an aggressive bone in his body. He likes: long walks, long naps under my desk, chasing squirrels, and handing out Halloween candy to children (he loves kids). Silas is the most gentle, sensitive, caring dog I've ever known."
The Journey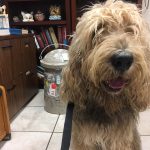 Bella was bred on Saturday September 2 (2017). This year, the weather was much more favorable than the last time we bred Bella. Moderate temperatures and no overwhelming heat – good news for dogs and humans! We made sure that Bella's diet and exercise schedule were supporting her "fragile" state. 30 days after breeding, an Ultrasound confirmed pregnancy. Puppies were coming! The question now was "how many". On day 56, we got the answer. The X-ray was showing 3 giant puppies comfortably stretched out, one seemingly looking straight at us. We were ready!
It has been out tradition to breed and whelp puppies on weekends and holidays. This litter was no different! Bella has been nesting for several days. Finding a perfect spot in the yard for her puppies was a serious business 😉 On Friday evening, she became more restless and started intense panting, a good indication of the upcoming labor. We were cautiously optimistic that the puppies would be coming some time during the night. However, when there was no real progress and Bella started settling down in the early morning hours, we decided to proceed with a C-section. We knew that puppies were extremely big and natural birth may have endangered both Mom and the puppies. Around 11 am, our 3 beautiful boys were born: (2) Black & Tans and (1) Tan & White.
We could immediately see that these puppies were HUGE: two of them were born at almost 2lbs! The biggest we've ever had. They were strong and vocal, looking for their Mom and a big sip of colostrum. They had to wait though for Bella to come out of anesthesia and once she did, she was ready to take on her maternal duties. Puppies started nursing in the truck, on the way home from the vet. Good boys and Great Mom Bella.
Week 1: Welcome Puppy Avengers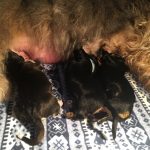 The first week is always a mixture of happiness and wariness. It is not unusual for a breeder to lose a puppy in the first couple of days after birth. Puppies are pretty defenseless at this time: they are blind, deaf and cannot regulate their body temperature. They depend completely on their Mom and her human helpers. Thankfully, Bella knew exactly what needs to be done. She had plenty of milk for a dozen of puppies, so our three boys had plenty of food and nipples to choose from. Keeping puppies clean was a piece of cake. Bella was attentive and caring, not interested in leaving the box, providing warm and secure nest for her boys. As a result, our "giant" puppies continued to thrive and gain weight every day.
Taking care of Bella was very important. As the main caretaker for the puppies, she got a royal treatment: 4 daily meals in the whelping box and plenty of water to ensure continuous milk production. The rest of the Pack, respectfully kept their distance, despite of growing curiosity about the new smells and sounds coming from the whelping box. Then, there was Rachel. Our youngest girl was completely mesmerized by the puppies. Hard to tell if she thought they were toys or playmates, but she was taking every chance to get close and just watch them nurse and make squeaky noises. Fun to watch!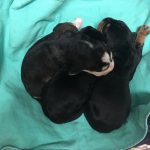 At 3 days old, the puppies took another trip to the vet. This time to remove their dewclaws. Our vet was impressed with the size and overall strength of our boys. Still blind and helpless but vocal and feisty! Thankfully, the procedure was quick and the boys were safe with Bella within just a few minutes.
Theme and the names for the litter revealed themselves very quickly. These puppies were the biggest and strongest we've had and ready to take on the world on day 1. Superheroes! And, what better superheroes than the Avengers: Hulk, Thor and the Iron Man. Super-Puppies!
Week 2: Can You See Me Now..?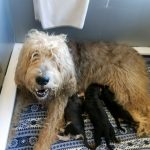 Week 2 was uneventful and full of never ending curtness. Puppies spent most of their days eating and napping, getting even bigger and stronger. Our job this week was to continue making sure they are warm and fed – pretty easy task with Bella in charge. This week however, Bella started hanging out with the Pack: joining them for meals and daily patrols of the yard. She did not leave the puppies for long, and even if she was not ready to feed them, she would just check to make sure everyone was warm and OK.
And they were more than OK. Bella was producing enough milk to feed a puppy army, so there was plenty of food for our 3 Avengers. It got to the point that the puppies would be excited to see Mom, but almost ignored her milk. They would nurse for a few seconds and fall back asleep. Pretty funny.
Moving around was slowly evolving from a very efficient crawl to pushups and attempts to stand up and taking a step. Easier said than done! The tiny legs were not strong enough yet to carry around these round tummies 😉 Lots of shaking and persistence to stand up for just a few seconds, just to fall over and do it again.. and again! The short "spurs" of activity was followed by a long meal and even longer nap. Growing pains!
This week, we were counting days for the puppies to open their eyes and ears. These black-blue eyes are just so beautiful and they instantly give a puppy new expression. Hulk was the first to show us a small window to his soul: tiny sliver of light around day 11. Iron Man was next and Thor – well, he took his time to finally give us a look, right at 2 weeks old. Handsome boys with beautiful eyes! Ears and hearing came next. We could see that they puppies were reacting to sounds and movement around them. They were also becoming more aware of us, the humans.
Rachel continued her fascination with the puppies. Ozzy continued his casual inspections of the whelping box area. Just making sure everything was OK. Mamba and Leeloo kept safe distance, but were very happy when we let them smell the youngsters. Welcome to the Pack!
Week 3: Let The Games Begin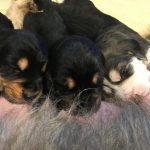 Awesome week. So many changes! At the beginning of the week, all eyes were wide open. It was hard to tell how much the puppies were seeing, except for general movements in their immediate environment. After discovering their world thru their noses, it took a few days to actually start using their sight. Hearing was getting better every day too. It was easy to notice the puppies were becoming more alert and aware of us, and lights and sounds around. They definitely knew their Mom and slowly started recognizing us, the human caretakers.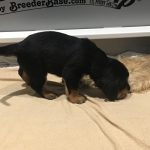 Mobility was a challenge at first. Our Iron Man was the first to get his body under reasonable control. Carrying the least body weight came in handy. He was the first one to walk across the whelping box without rolling over! Our big boys Thor and Hulk were much less coordinated and were expressing their frustration with not being able to "carry" their buts around. Very funny! With every day though, they were getting more confident and more playful and confident on their feet. Iron Man established himself as the play-maker: initiating the play almost every time. Hulk preferred hanging out with Bella (Mama's boy already..?) and Thor was interested in exploring and checking out the corners of the box.
I was happy to see them recognizing me, their human. The interactions are mostly limited to chewing my hands and climbing on my lap. I take it any day! Nothing is better than a puppy looking at you with a total trust and love. The toughest part of puppy love is dealing with the toe nails! Did I mention they are razor-sharp..? I have been trimming them almost every other day, but somehow, they continue to grow like crazy. I feel for Bella! LOL
Towards the end of the week I noticed one more new development: the teeth! I could feel them thru the gums since the beginning of the week but as the week came to an end, the K9s were clearly thru and ready for action. We all know what's next: chewing that won't stop for quite some time. Every day the amount of "awake" time was growing and play time became an after-meal routine. The boys are definitely becoming more confident with their abilities to move, see and hear. And they are just getting started!
Week 4: Personalities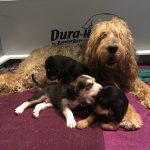 What a week! Puppy development was short of amazing. In just one week, the boys transformed from wiggly, unstable creatures into fully functional little dogs, running, chewing and growling. The puppies were becoming more interactive. Nothing better than three puppies hopping around with tails wagging! Week 4 is my favorite time in puppies' development. Once the eyes and ears open in the second week, the coordination and movement come together in week 3 and in week 4, well, we have these fully functional tiny doggies that are affectionate and very interactive. The only down side is growing teeth and sharp toe nails, but those are easily forgotten just by looking into these beautiful puppy eyes!
Personalities also started to show more clearly and only confirmed what we already saw in the previous week: curiosity and joy for life.
Meet our Puppy Avengers!
The Incredible Hulk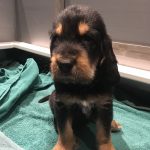 He earned his name by being the largest puppy we've ever bred: born at 2lbs and never stopped growing. At 4 weeks old, he's still a giant @ 7lbs 15oz. This little boy is a gentle giant! He is mellow and easy going. It took him the longest to get full control of his body. Being the biggest is not always the easiest. His heavy butt was wiggly and kept falling to the sides making us smile! But he kept on trying to get up on his feet. Once he gained control of his big parts, he mastered the "downward dog" position, followed by slightly uncoordinated hopping. Very funny! Hulk is playful, but he likes to play in close proximity to his Mom Bella, enjoying just being close to her and chew on her ears, chin and tail. He is also very happy to cuddle and sleep on my lap, which already makes him the ultimate and the incredible Mama's boy!
The Iron Man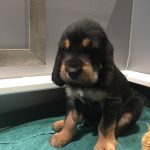 Our puppy Iron Man (or Tony) has been the smallest puppy at birth – 1lb 10oz, which still made him bigger than an average puppy in our previous litters. However, in comparison with his giant brothers, he was the "little" guy. He has been steadily gaining weight and keeping up with Hulk and Thor. Not an easy task, because our Iron Man was all about moving around from the very first day. As the days went by, it became apparent, that Tony was the most coordinated, mobile and active puppy out of our puppy boys. He was the first to fully stand up and walk with only minimal wobbling towards the end of week 3. Just like his Avenger's character, Tony has been very inquisitive and ready for action. Always looking for a toy, a playmate or a way out of the box. Literally! He has been patrolling the edges and just pushing the boundaries. Borderline trouble-maker already 😉 Iron Man is also in charge of all play action with his brothers – he tries to keep them awake, show them new toys and just keep them entertained. I guess being the "small" giant just motivates him to be more energetic and always "on the go".
Thor>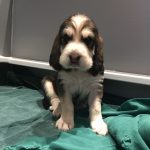 Then, there is Thor. Our brown boy has been a cutie from the very start! His markings, including a white tip on his tail made him irresistible. He has been born almost as big as Hulk – 1lb 14oz, and he has been competing with his bigger brother to claim the "biggest" puppy title. He has been growing consistently and at 4 weeks old, he's 7lbs 10oz. Not too shabby! His personality is a mixture of his two brothers. He is curious and likes to explore but he's not quite as active as his brother Iron Man. He is mellow and easy going but knows well how to use the paw to start or stop a play. Thor was the first puppy to discover "the ball"! We introduced toys to the boys but they did not know what to do. Thor took the first step towards the "new best friends" – Teddy the Bear and a tiny yellow ball. He had so much fun by himself that his brothers decided to join. And the rest is history!
Bella has been an excellent Mom, but as puppy teeth started growing, nursing became a challenge. She started nursing them while standing. Good workout for the puppies and an easy way out for Mom. Watching puppies sitting up to nurse is fascinating. At first, they are not very stable, but after just a couple of tries, they easily climb up and hold on to Mom or each other just to get a "bite"! Rachel continues to watch the puppies play. Waiting for her chance to jump in 😉
Week 5: Meal Time!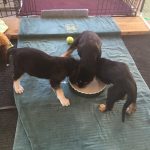 Week 5… already..? As much as we enjoyed Bella taking care of the puppies, it was clear towards the end of week 4 that she needed some help and relief from the teeth and claws of our growing giants. Weaning time was upon us!
Transition to dog food should be gradual to let the young digestive systems get used to new ingredients. We started easy, with rice cereal, goat milk and goat milk yogurt. The puppies loved it! Lapping new food in just a few minutes. Plus, sharing a bowl was just too much fun!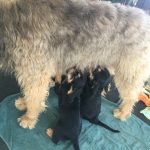 Within just a couple of days, we started adding ground dog food to the mix and met even more enthusiasm from our hungry trio. Digestion seemed to work well – no mess to report 😉
Bella was surprised at first, perhaps even a little jealous. She continued with her duties and feeding the puppy despite of pain and discomfort. But her strategy was changing: she would rarely lay down to nurse. She preferred to stand up and give the puppies a little workout!
It was also time to expand our puppies' world and introduce them officially to the rest of the Pack. Our adults have been checking out the whelping box from time to time (with the exception of Rachel who was "in change" of the puppies from the very first day!). We setup a daytime playpen right next to our living room and kitchen, where all human and canine action happens. Another big hit! Rachel was in heaven. Finally, she could watch puppies play and sleep all day long. She could even pick a toy and drop it inside the play area to invite the puppies to get to know her. Good girl!
Starting mid-week, puppies would spend all day in the common area and only nighttime in the whelping box. Their new daily routine consisted of 4 meals with Mommy's milk for a desert, followed by a lot of play time, chewing and hopping around. We even let them run around the living room and meet the big dogs. Rachel enjoyed every second of interacting with puppies, in and out of the playpen. She's been napping right next to them for most of the days and looking for ways to interact with them when they were awake. Ozzy has been curious, mostly about his toys. He ended up stealing a couple of them from the playpen. Hard to believe how agile he can be with all of his 120lbs! Mamba & Leeloo – keep watching the action, but don't get too involved. Smart!
Puppy development is amazing. These boys are strong, fast and agile. Ready to face the world. Hulk is still a clunky giant – mellow for the most part, but willing to defend his toys if needed. Thor is the explorer, looking for ways out of the playpen. He succeeded more than once! Iron Man is a playmaker – always happy to explore new toys and way to play with his brothers. Good boys!
Week 6: Ready.. Set.. Play!
This week could be described only as never-ending play time! Puppies quickly learned how to control their bodies, movement and enjoyed exploring everything in their environment: toys, toys and more toys of all kinds. No questions puppy teeth were growing and in need of constant chewing. Seemed like they were discovering the world by chewing on it and nothing was off limits: toys, cardboard boxes and other objects we put in the playpen. But most of all, they loved to chew on each other, to a point of pain at times. Part of the learning process I guess and social skills as they grow bigger is very important. Many times I had to step in when pulling and biting became too rough. Boys! However, watching them tugging on a toy chicken was so much fun and never boring. They would play with that poor chicken for hours 🙂 There are also "quiet' play times, when each boy picks up a toy, then finds his own corner to chew and eventually fall asleep. Cute! Cute! Cute!
Non-stop action means good appetites! These boys sure like to eat: 4 meals per day and snacks with Mom never seem enough. They mastered lapping the mixture of goat milk, goat yogurt and ground dog food. There is never enough water to drink and play in. Fun to hear them lapping huge amounts of water in-between toy mayhem, muzzle and ears all in! Keeping the play-pen dry is a losing battle 😉 The boys are growing!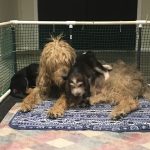 Bella has been a great Mom. She has been now spending more time with the Pack, but continued nursing the puppies several times despite of their sharp teeth. They boys love their Mom! She keeps them calm and content and even the most crazy play time seems to be mellow around Mom. Fascinating dynamics! Play time with Rachel is very different: more action and more animation! Rachel is gentle with the boys but her enthusiasm is hard to hide and the boys seem to know that! They run together and chew toys together. Good times! Ozzy mostly stays away – he figured Rachel and Bella have things under control. Smart! Mamba has been visiting and sniffing the puppies in the playpen. That's probably as close as she's willing to get. As the Great Aunt, she does not have to get too involved. Grandma Leeloo, enjoys the safety of the couch. It good to be a Senior 🙂
Week 7: Almost All-Grown-Up
Week 7 was such a joy! Puppies got used to their new daily routine: early morning potty training, followed by breakfast, mayhem and a healthy nap. They now enjoyed outings with the big dogs in our main yard as well as uninterrupted play time in their private, enclosed yard. Watching them explore the environment is always fascinating. No fear, just pure curiosity. Enthusiastic, but cautious. The boys also got their first collars: Iron Man is in Red, Hulk in Blue and Thor is reflective Orange stripes. Handsome! Surprisingly, they got used to the new "bling" very quickly and our life became easier when trying to control them in the yard.
Our goal this week was to work hard on potty training to get the puppies ready for their new homes. We have been very successful so far and the boys have not had any "number 2" accidents indoors for over a week. Good habits start early. California weather has been cooperating, so puppies have been spending significant amount of time outdoors during the day, under the watchful eye of their BFF Rachel or Bella. Never left by themselves. Safety and security are very important! Evenings in playpen were equally adventurous with never ending variety of toys and chewies. A big carton box was a hit! Simple and fun.
Personalities continue to develop and I have to say that these boys have wonderful temperaments! Mellow and happy, curious and adventurous. So much like their Mom Bella. They all enjoy being close to me with their toys or when they play with each other. I guess they wish I was a puppy and could play with them. They often bring me toys to hold while they chew or tug. So sweet! Nothing better than these 3 boys on my lap, half asleep or snoring. Warms my heart! But when they get going, it's hard to control their sharp teeth. Lesson to self: never enter the playpen empty handed.
| | |
| --- | --- |
| Iron Man – the instigator and a trouble maker. Busy with toys and always on a move! He is the most agile and has the best body coordination so he can quickly attack an unsuspecting brother or avoid being dominated or squashed. He only slows down with a great chewy or when ready for a nap 🙂 | |
| Thor is just sooo handsome! The white tip of his tail is easy to spot and he carries in with pride! He is happy and easy going, excited to join any kind of play with his brothers. I just love this pretty brown boy! I bet he will grow up to be just like his Dad Silas 🙂 | |
| Hulk continues to be the largest puppy and the biggest lover. Very much Mamas boy – Bella and I definitely favor this "little" boy. He usually brings his toy over and gets up as close as possible to get a strategic position on my lap. King of the mountain! And a great kisser 🙂 | |
Week 8: It's THE BEACH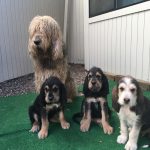 Christmas week! Time for celebration, too much food, presents, time off work, tons of fun and.. the first puppy departure. But first things first!
The boys are almost ready to become part of our pack. Although they did not quite get the free reign of the house, they have been spending more time with the adults in the main yard and in the house. Expending their world has its challenges, especially around bed time when we put them in the playpen for the night. At least one of the boys is not very pleased with that decision.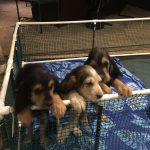 On the bright side, our adults adjusted very well to puppy presence. Mamba and Leeloo found a fine balance in "just enough" interaction. Ozzy steps in from time-to-time but Rachel provides the most entertainment. She always stays close to the puppies ready to play day or night. Bella is still very much involved, although nursing by now is painful and she only manages to stay with the boys for a short time. Yet, she comes back often for more quality time. Good Mom.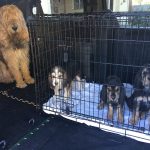 At the beginning of the week, the boys had their first trip to the vet: general checkup, first round of vaccines (Distemper-Parvo) and a microchip. We also have their blood drawn and shipped to University of Missouri for Otterhound DNA research. Helping to preserve the Otterhound breed for years to come. Visit to the vet means a trip in the truck. New big world awaits. And the first motion sickness too! Part of growing up. Thankfully, the vet's was only few minutes away and everyone just loved our puppies. Serious faces, giant ears and wagging tails always brings smiles and a lot of love!
It has been out tradition to take puppies to the beach before they go to their new homes. And when the weekend came around, the Avengers had to face yet another challenge: the beach! California weather did not disappoint and delivered a warm, sunny beach day. We called for reinforcements to ensure we had enough humans to assist. The new owners Jim and Liesel flew from Omaha to pick-up Iron Man and Hulk's new owner Kevin decided to join us. Then, there was Wookiee and her wonderful Pack. All set!
Dogs and Humans had loads of fun. Leash walking, ocean waves and the sand were a piece of cake! Blue Fairy beach genetics in action. It was easy to forget that we were dealing with puppies who play hard and then drop for a nap just a few minutes later, which is exactly what happened half way thru our walk. Carrying a sleeping 20lb puppy back to the truck was not easy and just when we thought the beach time was over, the puppies were up and running again. Boys! LOL.
After day at the beach, the puppies got a bath, good dinner and.. it was time to say "safe travels" to our Iron Man. His big journey to join his new pack of humans and hounds was about to begin. Bitter sweet moment. We knew he was going to an excellent home, but letting him go was tough. On the bright side, he did not seem to mind. Amazing puppy! Hopefully our paths will cross again in the near future.
Week 9: Then There Were Two..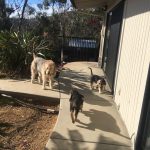 Happy New Year!! Departure of puppy Iron Man meant that Thor and Hulk moved out completely from the playpen and bunked together in a large crate, roaming the mornings in their private, enclosed yard when the rest of the Pack was enjoying their beauty sleep. But afternoons and evenings were all-in playtime in the house and the main yard! We even took the boys to the "Wild Side" – the rough part of the yard: new terrain and lots of new smells. Getting them tired became our daily mission. Tired puppy is a good puppy! LOL.
With extended house privileges came new responsibilities – doggie door training and the infamous "come" command. So challenging and so important. I have to say, nothing is cutter than watching puppy galloping thru the yard and the giant ears flying in the air! Such good boys. Amazing temperaments and the right balance of puppy fun and obedience. Hulk picked up doggie door routine almost immediately, Thor was a bit resistant, but ultimately started following the Pack.
Then, another "good bye". We delivered Hulk to his new home mid-week. The entire Pack went to check out his new house, inspect the yard and leave some familiar scents behind. We left one tired puppy behind 😉 Thor came back with us for a few more days and we loved to have him around. He participated in all routines with the big dogs, meals, toys and even our evening treat training in my closet! Good boy!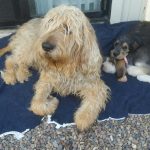 Hulk came back for the last playdate right before his Thor's departure to his new home. The boys enjoyed their brief reunion very much. I loved it too! The hardest part is letting my puppies go! Next morning, we dropped off Hulk (now Logan) and drove with Thor to meet his new Pack: Hartley with German Wirehair Pointer and Abby the Airedale. Bella, Rachel and Ozzy went along and fully approved the new extended Blue Fairy Packmates. Bitter sweet. On the bright side, Hulk and Thor are the residents of SoCal and I look forward to watching them grow. Blue Fairy Otterhound adventure continues!