British Invasion Puppies 2018
Posted by
Ashka
on Jul 29th, 2018 |
Comments Off

on British Invasion Puppies 2018
Table of Contents
Road to International Breeding: Meet The Parents
The Sire: Olly
Breeding Otterhounds is not easy due to a small gene pool and a limited number of intact males available for breeding. Improving the breed for health & conformation as well as expanding the gene pool has been our goal @Blue Fairy Otterhounds from the very start of our breeding program. After years of research and establishing international contacts, I developed a close relationship with one of the breeders in the UK with a very similar philosophy about future of Otterhound breed. In 2017, during my trip to London, I had an opportunity to meet Olly – Ottaryx Mumford, a wonderful boy and his owner Samantha from Olphae kennel. After spending an afternoon in Hyde Park and evaluating Olly's temperament and conformation, it was clear that importing his frozen semen would be a great benefit to the breed and Blue Fairy Otterhounds. The question was, who would be the most suitable Dam to complement him and produce the first generation of British Invasion puppies.
| | |
| --- | --- |
| Call Name | Olly |
| Registered Name | Ottaryx Mumford |
| Pedigree | Pedigree for Ottaryx Mumford |
| Hips | BVA R=7 L=4 Total 11 (equivalent of OFA Fair) |
| Elbows | BVA 0 (Equivalent of OFA Normal) |
| Glanzmann's Thrombasthenia | Clear |
The Dam: Darby
Darby is the daughter of our Ozzy
(GCH Blue Fairy's Wizard of Oz)
from 2014 breeding with Amira
(CH Scentasia's Grand Finale)
. I have been watching developments of all puppies from Ozzy's first breeding and Darby always stood out as far as her conformation and temperament. Her AKC Register name "Little Miss Firecracker" describes her well: Darby is energetic and full of enthusiasm. She loves her housemate Otterhound
Stuart
and never fails to rotate and inventory her toys. In Spring 2018 Darby completed requirements to become the AKC Grand Champion and was ready to become a Mom. Darby was my first choice when evaluating potential Dams for our first international breeding. I discussed the breeding with Darby's owners @ Con Cara Kennels and in April 2018 Darby was bred to Olly. British invasion in progress.
All of us @Blue Fairy Otterhounds are very grateful to Con Cara Kennel for playing the essential part in this exceptional breeding and look forward to watching our joint puppies grow and thrive in the years to come 🙂
Week 1: Welcome British Invasion!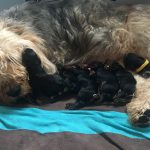 On June 21, first day of Summer 2018, Darby and Olly welcomed a litter of puppies: (5) girls and (1) boy, all black & tan. Great day when puppies are born! Whelping took almost 12 hours and I was very happy to be there to welcome them to the world. It's good to be a Puppy Granny (and a "midwife".. LOL) All girls were born naturally, but the boy needed to come out via C-section. We did not want to take a risk of losing the last puppy or, even worse, Darby. Fortunately, all ended well. All puppies were healthy and nursing immediately following their "arrival". Darby recovered quickly from the surgery and proved to be a great Mom: feeding and thoroughly cleaning the puppies.
Week 1 is all about watching puppies and thier Mom for any signs of distress and possible infections. Fortunately, all puppies were getting stronger every day, even the smallest Lizzy was gaining weight each day. Watching competition at the "milk bar" never gets boring and the sounds are priceless! Never mind shortage of sleep and bad diet. All worth it 🙂
Week 2: What's My Name?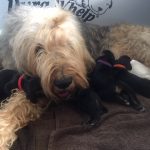 The second week was uneventful and full of cuteness! The puppies continued to nurse, nap and making the most soothing noises. Darby settled nicely to her role as a Mom: nurturing, protective and loving. Cannot ask for more.
In line with the British Invasion theme, we jointly decided that the puppies should be named after great Beatles songs! What a great idea and too many songs to choose from 😉 Finally, after watching the puppies almost non-stop for more than a week, the very fitting names revealed themselves!
#1 Girl – Pink Collar became Dayze, named after song "A Hard Days Night".
#2 Girl – Yellow collar is Sunny, named after "Here comes the Sun"
#3 Girl – Purple collar is Rigby, named after song "Eleanor Rigby"
#4 Girl – Blue Collar became Lucy, named after song "Lucy in the Sky with Diamonds"
#5 Girl – Orange Collar is Lizzie, named after "Dizzy Miss Lizzy"
#6 Boy – Red Collar became Sgt. Pepper or Sarg, no better name than that! LOL
After 2 weeks with my Great-Grand Puppies, it was time to return to the Blue Fairy HQ in SoCal. The puppies were healthy, consistently gaining weight and Darby's apetite was meeting milk production needs 🙂 I even saw the first eyes opening. Mission accomplished! I look forward to re-visitng in August to evaluate the litter and sucess of this breeding.
Week 3 Pictures
Puppies are growing up fast! From Left/Top: Dayze, Sunny, Rogby and Bottom: Lucy, Lizzie, Sarg
Week 4 Pictures
From Left/Top: Dayze, Sunny, Rogby and Bottom: Lucy, Lizzie, Sarg
Week 5 Pictures
Week 6 Pictures
#1 Girl Dayze                #2 Girl Sunny                   #3 Girl Rigby
 #4 Girl Lucy              #5 Girl Lizzie                  #6 Boy Sarg
Week 7 Pictures
Week 8: Puppy Evaluation