Puppy Chronicles 2010/2011
Posted by
Ashka
on Apr 8th, 2011 |
Comments Off

on Puppy Chronicles 2010/2011

– Chapter 1: The Beginning
– Chapter 2: Ultrasound
– Chapter 3: The Final Countdown
– Chapter 4: The Arrival
– Chapter 5: Week 1
– Chapter 6: Week 2
– Chapter 7: Week 3
– Chapter 8: Week 4
– Chapter 9: Week 5
– Chapter 10: Week 6
– Chapter 11: Week 7
– Chapter 12: Week 8
– Chapter 13: Week 9
– Chapter 14: Week 10
– Chapter 15: Week 11
– Chapter 16: Week 12 – The Last Good Bye
Chapter 1:  The Beginning
Sunday, October 24th, 2010
It was the night when all magic happened:  our Mamba (CH Blue Fairy Black Mamba, RN) was bred to MacDougal (CH Bearsden's MacDougal Argyll).
Progesterone levels dictated Sunday 8:30pm surgical AI procedure. We expected a quiet evening in a waiting room. But no!  The vet allowed us to "scrub-in" and assist in the surgery.  We started with lifting Mamba to a prep table where the vet administered pre-anesthetic and shaved her belly. As she went to sleep we moved her to the gurney and wheeled into the operating room.  We helped the doctor place her on the surgical table – feet up, with tube in her mouth and a BP/pulse sensor on her tongue. The surgery started – I was not sure if I'd be able to watch but Mike was in the middle of all action:  turning up the gas and talking to the doctor as he made the incision looking for the uterus.  Next step: prep the frozen semen. The nitrogen cloud released from the canister.. having REAL fun now!  We made sure that the semen was alive and 'kicking' under the microscope: we could see those little suckers swimming around.. they had long ears and perfect tails 😉   Back to business: ready to put bread in the oven!  The vet injected semen, tucked her uterus back in, stitched the tendon that covers the abdomen, then the fat and sewed the skin with 6 sutures.  We turned off the gas, moved Mamba back to the gurney and transferred her to the recovery cage.  We took her home an hour later, but she was still goofy.  It took her another 2-3 hours to get back to normal.
What an amazing, bonding experience!   Now it's up to Mother Nature.  A 60-day gestation period gives us puppies on Christmas Eve.
Please Blue Fairy..  Make Me An Otterhound!
Chapter 2:  Ultrasound
Wednesday,  December 1st, 2010
It's official:  Mamba is pregnant !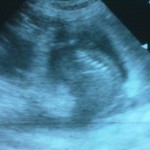 We arrived at the ultrasound appointment right on time and after a short wait we went into the X-Ray/Ultrasound room.  The exam was done with Mamba standing to minimize stress.  After a few seconds of uncertainty, I saw the first little creature.. and then another.. and another.  They were moving around – I guess they were camera-shy 😉  We could even see their tiny heartbeats.. but counting the puppies was tricky to say the least.   We can't wait to meet them all.
The Blue Fairy came through for us again.
Back to the top
Chapter 3:  The Final Countdown
Tuesday,   December 21st, 2010
.. and then there were Four!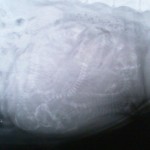 Today we had X-ray done to confirm the number of puppies 'in the oven".  Looks like Mamba has 4 little babies cooking for us 🙂  The X-ray clearly shows 4 sculls and spines, even sized.  Good sign for a healthy delivery.
Mamba has been handling her pregnancy very well.  She remains active despite of the weight gain (almost 20lb in the last 4 weeks).   She enjoys daily walks with the Pack and trips to the beach.  Rainy weather in SoCal did not slow us down!
Few more days to go.. We look forward to meeting the new Blue Fairy crowd!
Chapter 4:  The Arrival
Sunday,  December 26th, 2010
Blue Fairy puppies arrived right on schedule.  Mamba started getting restless early Sunday morning and woke us up with heavy panting @ 2:30am, 4:30am and 6am.  She was desperate to finish her nests in the back yard. She's been working on four of them in the bushes throughout the week.  It seemed she would never accept the whelping boxes we had setup for her and there were two to choose from!  She finally settled in the living room around 9am.  Contractions started about 10am and the first baby boy arrived at 11:45 followed by a girl 20 minutes later.  Both puppies were HUGE: 1lb 7oz each.  We were expecting another puppy within an hour but Mamba made us wait.  The second boy was born at 3pm and he was the same size as his brother and sister.  Unfortunately, the last puppy was still-born @ 5pm.  The little girl was only 8oz – almost 1/3 of her siblings' size.
So here they are: The Blue Fairy Black & Tan Monster Trio!
Whelping process was a family affair.  Starr and Leeloo observed the whole thing from the couch – in safe distance from the whelping box. Starr could not wait to meet her Grand Kids: she snuck up close to the whelping box when Mamba was delivering the 2nd boy and smelled the two pups we had put in the warming box.  Expression on her face was priceless!  Now that puppies are here and Mamba settled in her new role as a Mother, Starr continues to supervise the whelping box all day long, staying as close as Mamba allows.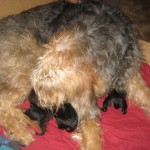 Leeloo was not as brave.  She stayed with the Pack during panting phase but left the room when whelping started. She continued to come by the room to see what was happening and smelled the whelping box when we took Mamba outside.  Unlike Starr, Leeloo maintains her distance.  She figured she'll play with the puppies when they are bigger.  For now, Mamba and Starr can share work duties.
For more pictures please go to photo gallery "Puppies 2010".  We will keep it as current as puppy duties allow 🙂 Each picture has a short commentary so click away and enjoy!
Back to the top
Chapter 5: Week 1
Sunday, January 2nd, 2011
Happy New Year!! The kids are one week old today. All puppies gained weight and started developing personalities. The little girl is a talker! She makes sounds when she eats and when she sleeps. Boy #1 is a wanderer. He just likes to see what's on the 'otter' side. His brother loves to eat.. and nap.. but mostly eat. That's all he wants to do. And it shows! He is a giant dumpling weighing in @ 2lb 5oz.
On Wednesday the puppies had their dewclaws removed and got their first thorough vet exam. They all got a clean bill of health 🙂 Now they just need to continue to eat, nap and grow. It never gets boring to watch them just do that! Puppy breath and sounds are priceless..
Mamba is an excellent Mother.. maybe a little over-protective at times, but she's been keeping the babies warm and fed. Every day, she is getting more comfortable leaving the whelping box and going outside. She handled our first vet visit and separation from her puppies much better then I expected. After all they were gone from her sight for almost 30 minutes! She no longer growls at Starr and Leeloo when they get too close. She stares them down instead. This new technique works well with Leeloo.. not too well with Starr who simply lays down in front of the box every chance she gets. Leeloo prefers to do the inventory of her toys to make sure she is ready for the new playmates in the next couple of weeks.
Chapter 6: Week 2
Sunday, January 9th, 2011
The second week is behind us. Puppies are growing like weeds and continue to gain weight. They are all over 3lbs and we are expecting to get to 4lbs tomorrow. Looking like real dogs now: their heads, ears and bodies are more proportional. Feeding time is getting more vocal and competitive. The tails pointing straight out reflect the level of hunger: the more intense the tail, the more aggressive the nursing.
We had two big events this week:
1) The kids started walking. We are way passed the push-ups and those back footsies are no longer dragging. There is a lot of wobbling going on but they try really hard to take steps around the whelping box. Fun to watch!
2) The eyes are open! One of the boys opened his eyes first – we saw a little sliver on Wednesday (day 10). His sister opened her eyes on day 11 and the other boy was the last to 'see the light' on Friday (day 12). Although it will take a couple more days for the puppies to actually see us, we love those black-blue eyes 🙂
Mamba continues to take good care of her puppies and in the last few days she also has been taking care of herself. She is spending more time outside the whelping box – taking naps, enjoying chewies and hanging out with us on the couch. She also started joining the pack on afternoon walks. And while she is away, I have to take over her duties and cuddle those puppies. Tough job, but someone has to do it!
Starr does not give up her attempts to get close to the puppies. She told me she could take care of them if Mamba did not want them any more. We let her smell them several times while Mamba was away. It made her day! Leeloo maintains her distance, I but I know she will be the ultimate playmate to these kids when the time comes 😉
Chapter 7: Week 3
Sunday, January 16th, 2011
The puppies are three weeks old and continue to thrive. We came up with temporary names for them. It was getting silly calling them by numbers. The girl is Scarlett and the boys are Wilson and Ozzy.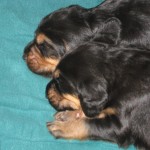 New facts and discoveries:
1) World outside the whelping box is exciting and the puppies get more creative with escape routes every day. Mamba is doing her best to block the exit, but they already figured out how to walk over her to get out. After all, that's where all new smells and new friends can be found. Grand-Ma Starr is almost as cool as Mom.
2) Wobbling is almost gone. Can't wait for jumping and running around!
3) Toe nails are super sharp and never stop growing. We've been trimming them every 2 days.
4) The teeth are coming! They are not quite out yet, but I can definitely feel it when they chew on my finger.
5) Growling is a new sound when competing for the milky bar and during play or chewing on each other. Ozzy barks in his sleep.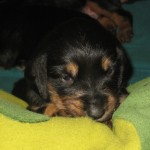 Personalities continue to develop: Scarlett is the most active. It seems she is the first one up and the last one to fall asleep. Wilson is an escape artist and continues to look for different ways to the 'otter' side. After all, he broke out for the first time when he barely was one day old. Ozzie is more laid back and waits for his siblings to show him what to do. Once they are out, it's time to practice tracking and look for new things, like a remote control, or a ball or Grand-Ma Starr. Fun to watch them explore the world! Amazing how much they change every day. We will continue talking notes, pictures and videos 🙂
Chapter 8: Week 4
Sunday, January 23rd, 2011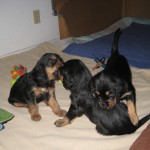 Four weeks old! Where did the time go..? Seems like yesterday the puppies were barely moving.. Not the case now! Although the butts are a little heavy, all of them are hopping around and making attempts at running. Stopping is another story. Balance seems to be challenging at times. All that matters now is play time. Wrestling is name of the game. Scarlett is the most agile of the bunch and she does a great job of not letting the boys dominate her. The boys are .. well.. the boys – more clunky. Especially Ozzy. What a tank he is! Wilson loves to explore – just can't get enough of the 'otter side'.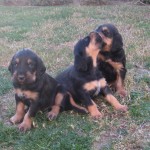 The puppies were introduced to our back yard. We've been having warm and sunny weather in the last week and decided it was time for the puppies to discover the great outdoors. Benefits of living in Southern California 🙂 Puppies were a little cautious during their first time out and tended to stay close to Mamba, but they got over it really fast. Curiosity and new smells took over. Watching them 'work the yard" is a trip!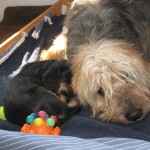 We started the weaning process. Puppies were introduced to real food – if rice cereal and some yogurt can be called "real food". Scarlett was the most open to this new experience; the boys were a bit apprehensive. Mamba did not like the competition and kept calling the kids for a milky desert. It will take a few more days to get them off Mom's milk. The bad news is that we will have to take over all of Mamba's responsibilities for feeding and the cleanup. The fun is just getting started..


Chapter 9: Week 5
Sunday, January 30th, 2011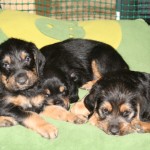 Week 5 is over. What an adventure! The kids are growing like weeds and roam our house and yard with more confidence every day. Their world is not big enough. No matter how much space they have in their play-pen, they just have to get out. Scarlet is an amazing escape artist. She scouts for the possible weaknesses in the fence and tries to squeeze thru or climb over. Wilson helps his sister in the search. Ozzy provides brute force: if it is obvious that the fence is not giving in to Scarlett's attempts, Ozzy jumps in. Literally. They lean together until they are free. We are grateful to Mamba who watches it all and lets us know as soon as someone gets out. This trio is much more persistent in their escape attempts than our previous litter of six.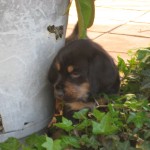 The schedule consists of three activities:
1) Puppy Play Time
2) Puppy Feeding Time
3) Puppy Nap Time
Back yard is now a daily activity. The weather has been our friend so far. The puppies get their exercise and we get a slight relief from our potty duties. Mamba still tries to clean up after them every chance she gets. Almost disappointed she cannot do it all any more. We are in awe what a great Mother she has become.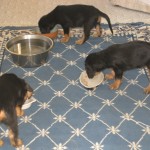 Weaning process is right on schedule. The puppies get their meals 4 times a day. Mamba does not like it at all. We have to feed the puppies away from her if they are to finish their meal. Otherwise, she will call them for a milk desert.
Puppy nap time is great for us humans. We get a chance to load and reload laundry, do some cleanup and get ready for the next round of play time. Then there is that work thing that interrupts all fun puppy things. The days seem to get shorter with all activities, but we love every minute.


Chapter 10: Week 6
Sunday, February 6th, 2011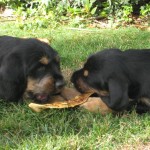 Another exciting week is behind us. Puppies moved into their new area: our dining room was converted into a giant play-pen. Great news for Leeloo who re-claimed her spot on the couch and pretty good news for us – we have our living room back for those brief moments when puppies are asleep. Watching TV is a luxury these days 🙂
Personalities continue to evolve. Wilson is the explorer. He loves to cruise the yard and the bushes only to get too exhausted to make it back to the dining room 'den'. He often collapses and falls asleep in the grass too tired to walk any longer.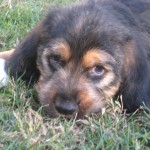 Scarlett is 'the brains' of almost every play. She waits for her brothers to get tired and then she jumps in. At the end she is the one with all the toys and chewies. Smart girl!
Ozzy discovered that being the 'tank' and dominating is not a good thing. He figured that if he lets his brother and sister win from time to time they will play with him more often. He now enjoys rolling on his back and letting his siblings chew on him, until of course he has had enough and decides to take over.
A few facts and reminders that the puppies truly ARE Otterhounds:
Fuzzy Chin Factor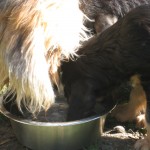 Since puppies started drinking water, we realized that the chins do store moisture no matter how big or small they are. Amazing how quickly my pants can get wet after a puppy decides to say hello after a sloppy drink! Good thing they did not start drinking from the bottom of the bowl!
The Ears
In the last couple of weeks the ears exploded and now they get into water, dog food and all kinds of stuff outside adding yet another step to the daily puppy routine: wiping those ears!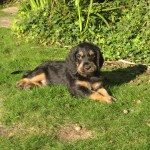 The Voice
Until now, puppy noises were mostly wining and growling. In the last couple of days something new happened: Wilson discovered his voice. It is a wimpy, squeaky bark but he likes to use it when wrestling with his siblings. He may grow up to be a talker!
Chapter 11: Week 7
Sunday, February 13th, 2011
The puppies are 7 weeks old! Where did the time go? What happened to those cure little 2lb squeaky creatures? And who are those clunky 18lb monsters roaming in my back yard? Amazing how fast they change.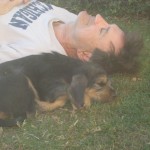 The puppies trained us well this last week: wake up call @ 6:30am – potty, breakfast, morning mayhem and a nap.. for the puppies of course – we still have cleanup to do. The cycle continues until midnight. We are missing our couch/TV time and wouldn't mind to sleep-in but it is such a joy to watch them discover the world and learn new things every moment of every day!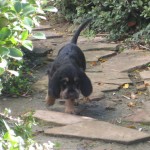 Wilson continues to explore the bushes. He gets in the tightest spots! We can hear him squeaking pushing thru the thickest bushes. There are times I can see him almost stuck behind a branch, but somehow he eventually comes out with a proud smile on his puppy face. He must share a gene or two with his Aunt Leeloo who does exactly the same thing every time we take her to the fields for a run.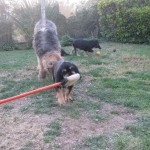 Scarlett is mastering toys of all kinds. Couple of days ago she found a plastic plant pot in the back yard and brought it to us with pride. Then the broom. She is smart enough to know that in order to keep it, she has to hide it from the boys. It didn't matter that the broom was much bigger than her. She was prancing with it across the yard towards the bushes! Yesterday she showed us her wild side. Out of the bushes she presented us with a dead tree rat. So proud! She didn't kill it, just found it. We were shocked! Junior Toy Master and a Hunter in Training 🙂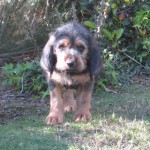 Ozzy conquered the doggie door. He figured that the yard and the dog room are not big enough and when he wants to get in the house, he simply has to go around and get in just like the big dogs. It became a rule almost every time we prepare puppy meals. He just appears in the kitchen out of nowhere. No wonder he is already 19lbs. Someone LOVES his food!
Mamba enjoys the puppies very much and is very involved throughout the day. She loves just laying in the yard watching them play, letting them pull her ears and tail and climbing all over her body. Her attempts to run around with them failed pretty quickly – she was too fast and too big and she knew it right away. She decided that being passive works better. Fun to watch!
Chapter 12: Week 8
Sunday, February 20th, 2011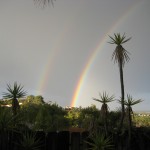 Week 8 – a new adventure. I'm not sure who had more challenging week: puppies or the humans. It was raining in Southern California. Mother Nature made us realize how fortunate we've been in the last few weeks. We all got used to a schedule: get up @ o'dark thirty (a.k.a 6:30am), get the puppies outside, breakfast, mayhem and a nap. Repeat throughout the day. With the rain, our outdoor routine got out of balance.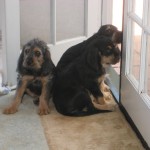 The puppies were excited to go out when it was sprinkling, but in full blown rain the excitement suddenly disappeared. They could not run any faster towards the house to hide from the pouring rain! The look they continued to give us when we were trying to get them outside was priceless. Something in-between "You got to be kidding me" and "Don't make me do it! Please!". Plus, in their minds it was much easier to do all their business inside. What's wrong with that..? Thankfully, the rain is over for a few days and we LOVE it. So do the puppies.
Time went by too fast! It seems like the puppies were born just yesterday. Now, at over 20lb each they still fit on the dog pillow. Maybe just a little tighter 🙂
No new changes in puppies' personalities. Wilson continues to roam, Scarlett still outsmarts the boys and Ozzy is a giant bear. He is desperate to make friends with Leeloo who is a bit overwhelmed with these hyper creatures who dominate her house and the yard. She tells me she is ready to get her toys back too!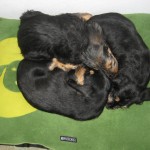 Mamba on the other hand would not mind if all puppies stayed with her for ever. She just loves spending time with them in the yard and their play room – just being their guardian and a referee when wrestling gets too intense. We often see the kids and Mamba cuddled up in the yard for an afternoon nap in the sun. What a great Mom she's become!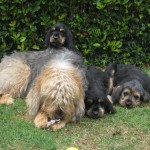 We concluded the week with a ride in the truck to the vet. Puppies were microchipped, dewormed and got their vaccinations. We also drew blood for DNA Epilepsy study. It is almost time to start saying good bye… but not so fast! The "baby pack" will stay with us for one more week. And you know it: puppies' first trip to the beach is coming up next. More opportunities for great videos! Make these special moments last forever 😉
Chapter 13: Week 9
Sunday, February 27th, 2011
Week 9 was full of excitement. It was time to "brake on thru to the Otter side" 🙂 Playing in the yard, conquering the bushes and the doggie door was just not enough. It was time to see the ocean. The puppies went to the beach. Twice! The weather was sunny, tides were low and it was a great opportunity to introduce the pups to the BIG world outside. And what's bigger and better then the beach..!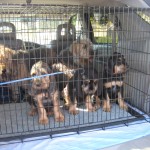 First, we had to get the collars. I almost went shopping but luckily we found Mamba and Leeloo's puppy collars and they fit perfectly. The boys did not mind having them on but Scarlett hated it. She was scratching and rubbing her head and neck in the bushes. She just did not like the idea of being restrained.
Next step: trip in the truck. These puppies are not to crazy about riding in the truck.. yet. The crate, truck movement and the noises were a bit scary. It took them a while to settle down and stop squeaking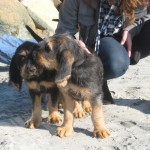 Then there was the leash walk. It was another "first". Ozzy led the pack. He didn't notice the leash and was mostly interested in following his Mom and meeting other dogs. I was impressed with his enthusiasm towards other dogs and people. Wilson was .. well.. Wilson. As long as we were following him, he was happy. The moment we tried to suggest a different route, it was a very different story. He was fighting every step. However, once he saw something interesting he momentarily forgot about not wanting to follow us. His curiosity would win every time but it was fun to watch his internal struggles 🙂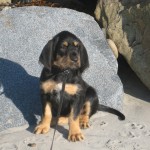 Scarlett had a hard time getting started. She did not like the collar and the leash was an extension of the collar. She would just sit down and refuse to walk. The trick was to have Ozzy or Wilson get her going. After a while she was almost excited.
Our first trip to the beach was short. The puppies were able to handle only about 20 minutes of this new adventure. At one point, Wilson and Scarlet just collapsed behind a rock ready to take a nap. We had to carry them almost all the way back to the truck. Ozzy blended in with Mamba and Leeloo. He even got his feet wet in the ocean. I think he suspects he is about become a new member of our pack.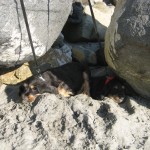 Leeloo finally admitted that puppies were part of her pack and instead of running down the beach she decided to stay close to make sure they were safe. She was helping Mamba to block other dogs from getting too close to the puppies. Amazing pack dynamics! Fortunately, we only met well-behaved and puppy-friendly canine ambassadors.
The second time at the beach was even more fun. The boys were marching down the beach and Scarlett joined them after a short period of resistance. This time we stayed for almost an hour. Everybody got their feet wet. Trip home was very quiet. Puppies fell asleep in the truck before we left the parking lot. I think we finally got them tired 😉
Chapter 14: Week 10
Sunday, March 6th, 2011
Week 10 was full of mixed emotions. Puppies had more fun at the beach, continued to roam the yard and on Friday we said 'good bye' to our puppy Wilson. He was the first one to leave the pack and start new adventures in his new home. Bitter-sweet.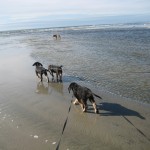 We went to the beach again. Twice. Each time the puppies were more comfortable with their collars, leashes and the beach adventure. We could barely keep up with them. They had no fear of water or the waves. True Otterhound spirit! Ozzy was leading the pack. He simply wanted to be in the middle of all action: run circles with Leeloo and Mamba, meet other dogs.. just experience it all. What an enthusiastic boy he is! Scarlet was a little more cautious. After the first excitement wore off, she slowed down and was analyzing the environment. Smart!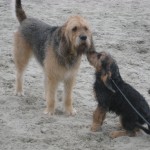 Wilson was somewhere in between. He did not have Ozzy's drive, but was very interested in running with the pack and wading in the ocean. Leeloo interacted with puppies much closer then before. She even let them pull on her chin and ears. Almost playful. Ozzy and Scarlett had a chance to participate in "the apple game" with Mike. They also got digging lessons from Mamba & Leeloo. After all, fun activities must be shared.
Riding in the truck was less eventful. Almost no wining and a nap on the way back. This beach routine is becoming easier with every trip! When we got home, puppies were introduced to our after-beach custom: the bath. They handled it like pros! Too bad I did not take pictures 🙁 Cleaning the ears was just as easy.
Friday was very emotional. All morning we were getting ready to say good bye to puppy Wilson. We prepared puppy package with health records, feeding and training information. We had a tough decision to make: which pillow and toys should go to Wilson's new home.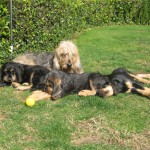 It was important to us to make the separation from the pack as easy as possible. In the meantime, puppies were roaming with Mamba in the yard. We had our last photo session with the whole gang. Then it was time. We took the entire pack to see Wilson's new home and to leave a familiar sent in his new yard. I think Mamba approved: she rolled several times in the grass and finally laid down to play with Wilson for the last time. We continue to be amazed with her maternal skills. There was one last thing for us to do: prepare Wilson's dinner and slip away while he was eating, too busy to notice our leaving. His new name is Woody, like Sherriff Woody in Toy Story. What a fitting name for our first-born boy!
Chapter 15: Week 11
Sunday, March 13th, 2011
… And then there were two! Scarlett and Ozzy adjusted well to life without their brother. We could tell there was less barking during puppy play. Woody was known for his vocals. Mamba did not seem to notice the change.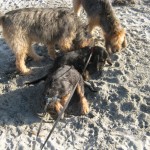 We continued our adventures at the beach. The puppies had a chance not only to wade in the water, but also try swimming. It was accidental of course when a wave came up and swept the puppies when they were following Mamba and Leeloo into the ocean. There was no panic.. just paddling to the shore. Ozzy seems not to notice much the difference between sand and water. All he wants is to keep up with Mamba and Leeloo. If it takes a little swimming, so be it! Scarlett is determined to be as fast as her brother. However, when things get too crazy, too fast and too wet, she likes to take a break – just sit and watch the scene for a moment. Digging in the sand has been perfected. Now all dogs like to dig in the same hole. There is lots of sand flying everywhere. Fun all around.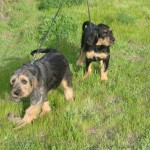 This week, we introduced puppies to the bushes. There is a large park with sage brush bushes, where Mamba and Leeloo can run free and get their exercise. It was time to share the new venture with the puppies and they loved it. As usual, Ozzy was squeaking all the way trying to be with the big dogs. This leash thing is just not long enough for the little dude. Scarlett loved the new smells and was just as excited as Ozzy. The tough part was for us handlers not to get tangled in puppy leashes and bushes at the same time. We had a blast!
On Friday, we had a different kind of adventure. Puppies were filmed for Animal Planet's special Dogs 101. We were very excited to get Woody back for a day and reunite the trio for their TV appearance 😉 We also invited a few kids from our neiborhood to come and play with the puppies. It was a wonderful picture: kids and puppies running around the yard with toys!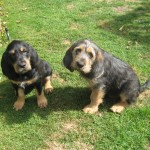 We were impressed how well puppies reacted to their new friends. After all, it was their first nose-to-nose encounter with the little ones. Fun to watch. We also practiced little obedience. Sitting still for a treat was a challenge but well worth it. Even Mamba & Leeloo lined up with the puppies. Amazing what you can do with food-motivated Otterhounds of all ages! Then, there was lunch, more play in the yard, lots of running, little growling and a well-deserved nap. All caught on camera! Too bad we didn't take pictures of the puppies being filmed 🙁 Oh well.. I guess we'll have to wait for the final product.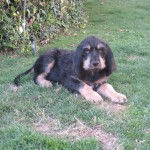 In the evening we took Woody back to his home. This time, Mamba noticed that her pack got smaller. She was whining in the garage looking for her boy. It's a good thing she still has Ozzy and Scarlett to keep her occupied.
We ended the week on a high note: beach on Saturday and bushes on Sunday. These puppies are going to be athletes! No stopping them now 🙂
Chapter 16: Week 12 – The Last Good Bye
Sunday, March 20th, 2011
This week was full of pure fun. We knew it was our last week with Scarlett so we decided to make the most of it: we roamed in the yard, at the beach and in the field. Same old routine.. just more of it 😉 We probably let the kids get away with more mayhem than usual.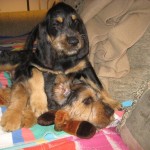 Scarlett proved she is the boss and Ozzy continued to play the victim. He just became more vocal. Mamba actively participated in all play. It was tough sometimes to watch her pull puppies' legs or put her big mouth over their tiny heads, but they seemed to love it! The funniest part was Mamba trying to negotiate with the puppies for their chewies. As we found out, it is all about 'the bone': who's got it and who wants it and neither Scarlett nor Ozzy were eager to give it up 🙂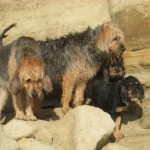 Leeloo started to warm up towards the puppies in the last couple of weeks. She probably figured that they could be staying. Good guess.. Almost! She was protective of them at the beach or in the field, but still growled at home. She just wanted to make sure they know the boundaries. Ozzy is fearless and sometimes gets the big bark, but then he rolls onto his back and shows a total submission to his big Aunt.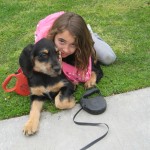 Saturday was tough and exciting at the same time. We packed the truck in the morning and headed north to meet Scarlett's new family. It's always difficult for us to see the puppies go, but knowing how wonderful the new home is certainly makes it easier. Scarlett very quickly made friends with her new humans and a Basset Hound Abby and we knew she was in good hands. We will miss her 🙁
Ozzy will stay with Mamba & Leeloo as a permanent Blue Fairy Pack member and we look forward to seeing him grow. Pretty soon he will have his own web page to track his fabulous adventures! Stay tuned..