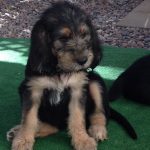 Rachel – the name says it all: Rebel from the start 😉 Rachel is a puppy from our 2016 Gr8full Eight litter and from the very beginning, she was a confident and vocal puppy, very much like her Mom Addie. Rachel has always been playful and knew how to handle herself when things got rough with her littermates. She used charm, agility and assertiveness – as needed – to get her way. We knew she'd find a way to fit within our Pack. We just did not quite expect how fast she will take over the leadership position.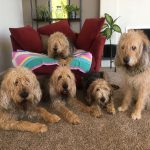 Growing up with our adult Otterhounds was a bit of a challenge for Rachel. Bella was 4 years older and Ozzy – almost 6 years older than our energetic puppy when she joined the Pack at 8 weeks old. Neither of them had enough energy or interest to keep up with Rachel, who was demanding someone's attention well.. almost 24 hours a day. Rachel was used to having company and seven playmates throughout her puppyhood. Someone was always there to mayhem! Now, she had to adjust and negotiate for time and attention from her aunt Bella and cousin Ozzy who were not always in the mood. But nothing would slow down our little Rebel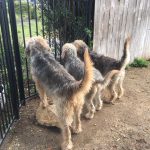 . She was up for anything fun. Most of the time she had a toy in her mouth, ready to play. She was never discouraged with growling by dogs or humans and had boundless energy and new ways to entertain herself and all of us.
Rachel is high energy and confident. Her curiosity and will to explore are boundless! Every morning, after breakfast, she helps Ozzy with his daily inspection of the yard. They often join in a chorus when a stranger approaches just to let them know that the house is being protected by professional guard dogs.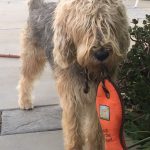 She is very funny prancing on the top of her toes, slightly hiding behind Ozzy just in case! Then, it's time for the toy box inventory. Rachel took over the toy box duties from her Granny Leeloo and she proudly rotates that toys daily, making a mess all over the floor and the living room. Small price to pay to keep our puppy happy 🙂 She proudly presents her fav toy of the day: brings is over for a short game of tug and then settles for the chew and afternoon nap. The "quiet" does not last too long though! Rachel is very good at finding new missions and fun throughout the day.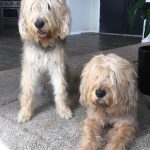 When toys and our hounds are just not enough for our Rachel, we know who to call for reinforcements: Mom Addie and Cousin Wookiee.
Addie and Rachel mirror each other on and off the playground. Their behavior, and overall play dynamics are very much alike. They also have the same level of energy, which is hard to believe considering Addie's age. Finally, Addie found her match and watching them play together is just a joy.
Wookiee is Rachel's BFF. They are only 4 months apart age-wise and they took a definition of a non-stop play to a new level.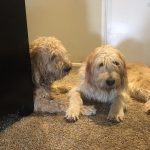 These girls can go all night long, literally! They chase each other, wrestle and crash for a nap. The toughest part is to keep the water bowls full and clean, because playing hard means thirsty hounds and wet beards! Never ending mayhem. At the same time, they burn a lot of energy and enjoy each others company. Tired Otterhound is a good Otterhound. These girls get each other tired and entertained at the same time. Great news for the humans 🙂
The Name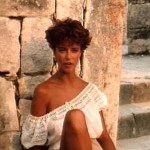 Rachel was born on St. Patrick's day and we picked a good Irish name for her. Urban dictionary defines Rachel as "smart and sassy" – yep, that's our girl! Following our movie tradition, her registered name is "Blue Fairy's Against All Odds" – one of my favorite movies and a great song by Phil Collins. The main character of the movie Rachel has rebellious and adventurous spirit, just like our girl. Another great name and a great fit! Our Miss Rebel also has 2 other nicknames: Reggie – just less formal and easy call name and Monkey – because she just loves to roll at my feet with her butt sticking up in the air. Gotta love it 🙂
The Talents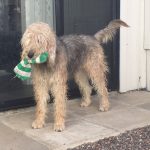 Rachel is smart but instinctive. She understands exactly what is asked of her and then makes the decision to comply (or not). Frustrating at times, but a good challenge. Watching her decision process is fascinating!
Rachel is our first puppy that missed her Puppy Classes due to summer heat and went straight into Beginner Obedience and Conformation classes in the fall. No question, she was learning fast and puppy push-ups were a piece of cake! But then, there was the nose and all good smells getting in the way of staying focused!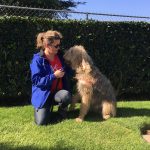 We continued to the Canine Good Citizen (CGC)classes and took the first shot at the CGC test. Well.. the nose took over and we failed the infamous "loose leash walking" station. Disappointment but a reality of a scent hound and an adolescent Otterhound 😉 We took another round of classes, and practiced a lot. I also decided to use an Easy Walk harness, instead of a Martingale collar. The leash attaches on dog's chest and discourages pulling. It works so well with all our dogs! When it was time to re-take the CGC test, Rachel was ready and passed with flying colors. Good girl! We are now ready to start Rally obedience. No stress, no pressure 😉
The Dog Shows
Conformation and show ring performance came to Rachel naturally and with very little effort. Her confidence and showmanship were obvious from the first day at the conformation class. She stood firm for the exam and moved like a dream.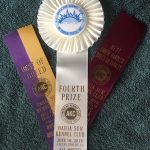 But, at the very first show, things were a bit more challenging to puppy Rachel only because she was competing with her BFF Wookiee, and both girls were much more interested in playing with each other, than paying attention to that strange person called "the Judge". It took time and practice to keep her attention and collect points. In August 2017 Rachel obtained her AKC Championship, followed by the IABCA International Championship title. Great start! I have to admit, she Rachel is maturing very nicely and is becoming quite a performer in the show ring. Time will tell is she'll "out-do" her Aunt Bella!
The Caretaker – Life with Puppies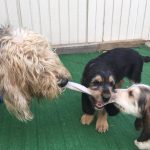 At 18 months old, Rachel had her first experience with puppies. In November 2017, Bella had her Puppy Avengers and Rachel was in heaven. She was tirelessly watching the whelping box, trying to figure out what happened and how she can get close enough to investigate the new squeaky creatures. It took time and patience for it to happen. Bella was a protective and cautious Mom, but it was hard for her not to give into Rachel's persistence. Rachel proved to be a great entertainer and caretaker. We could always count on her enthusiasm and limitless energy to play with the puppies at any time of day and night. Good job Reggie!