The world of dog shows! What an adventure!
We have been frequent spectators at dog shows for years. It was a great opportunity to meet different breeds and breeders in our quest for a dog that would best fit our lifestyle. Our last dogs were German Wirehaired Pointers and I had a Basset Hound growing up. Otterhound seemed to be a perfect combination: a shaggy hound. Looking back, I wonder what took us so long to figure it out!
Showing dogs takes skill and practice. Professional handlers have both, plus they know who is who in the dog show world. But where is the fun?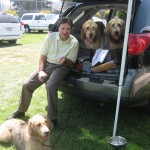 Otterhounds are perfect for an owner-handler. Dog shows are also a great opportunity to introduce the breed to the public. We decided to make it a family adventure.
We have enthusiasm and great confidence in our dogs. Although dog showing does not come with a manual we had help getting started. Conformation classes, feedback from judges, fellow dog owners & professional handlers were invaluable. We learn new things every time the ring. It never gets old or boring. We just have to remember to have a sense of humor, regardless of the outcome.
After all, it's just a dog show 😉
The Beginning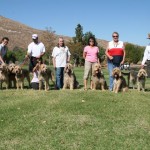 June 2008. Our first time in the ring was a challenge. We practiced at our Conformation classes and it was time to face the judge – literally. The new handlers (us) were stumbling around the ring attempting to follow judge's directions. The dogs were just happy hounds. Surprisingly, it was fun. By the end of the weekend, Mamba had her first 2 points. She defeated her sister Leeloo and a Champion Otterhound. Not too bad for an 8 month old puppy and her show ring debut.
Summer of 2008 was very exciting for all of us. We had some wonderful trips around California, including Ventura and Santa Barbara which became our annual tradition. We also took the dogs to 2008 Otterhound Specialty in Des Moines, IA. It was an opportunity to meet more than 40 Otterhounds and their owners. The best of all, we were able to see Angel – Mamba & Leeloo's littermate, now living with her family in WI. Great fun 🙂
Our time and commitment to showing our puppies in conformation ring paid off. In fall 2008, we had 2 new AKC champions: CH Blue Fairy's Black Mamba and CH Blue Fairy's Fifth Element. Mamba was invited to the prestigious AKC/Eukanuba National Championship in December 2008. She was the youngest Otterhound showing that day and received the 1st Award of Merit and an invitation to Crufts Championship in the UK. We were so excited that we forgot to take the official Eukanuba picture 🙁
The Fun Continues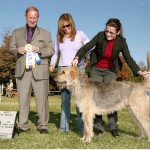 2009 was all about Skye: Mamba and Leeloo's littermate. We started the year with 2 major wins at the Hound Show in Palm Springs and continued thru the summer & fall. In November we had yet another champion: CH Blue Fairy's Skye Girl, The Hollywood Superdog.
Mamba and Leeloo received invitation to the 2009 AKC/Eukanuba National Championship. They both made us proud: Mamba received the 1st and her sister Leeloo – the 2nd Award of Excellence. We took pictures this time.
In 2010 we were focused on Rally Obedience and conformation was not on the top of our dog activity list. We participated in our favorite shows and earned several Best of Breed Awards. We were also invited to 2010 AKC/Eukanuba National Championship and represented the breed well.
In 2011, with the addition of Ozzy to our pack we were back in the show ring. We quickly found that a big, high energy boy with no patience was going to be a challenge.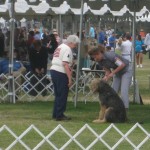 When he met his first judge, he just did not like him and refused to be examined. He preferred to lie down and chew on a stick, not exactly proper dog show behavior. In Ozzy's defense, the judge was wearing a big hat and approached him maybe a bit too fast and a 6 month Ozzy was just not able to handle this new experience. The next time in the ring was much better. The judge had more gentle approach. Ozzy was enthusiastic and maybe too playful at times, licking the judge and hopping around the ring 🙂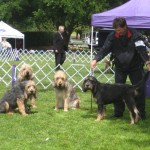 During Summer and Fall of 2011, both Woody and Ozzy were getting used to the show arena. We learned male Otterhounds mature much slower than females. Standing for judge's examination is not their favorite thing to do. They are also still learning to control their clunky bodies. It's fun to watch them get ring-ready.
In September, Blue Fairy Pack participated in 2011 Otterhound Specialty dog show in Eugene, OR. Just click on Trip to 2011 Otterhound Specialty for pictures and videos from yet another road trip adventure.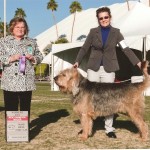 In January 2012 Ozzy got his first major win at the Hound Show in Indio, CA. The AKC requires a dog to obtain a total of 15 points with two major wins (a major win is worth three points or higher) to become a Champion. The majors must be won under different judges and at least one other judge must award some of the remaining points.
We've shown Ozzy throughout the year at local Southern California shows and he earned more than enough points for his title. However, with Otterhounds being a rare breed,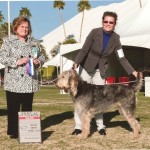 our challenge was for find a show that would have enough males for a major. We had to wait until January 2013 and the Hound Show in Indio, CA. Ozzy proved to be a magnificent hound and won his AKC Championship with a 4-point major.
In January 2013 Bella debuted in the confirmation ring in style at the Indio Hound show. She followed Ozzy's lead with a 4-point major. She won Winners Bitch and Best of Winners titles two days in the row. Great start of a show career! New Blue Fairy Champion in the makings 🙂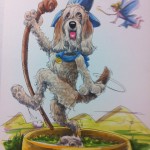 In March, we decided to participate in the 2013 Otterhound Regional Specialty in Louisville, KY. We were joined by Bella's brother Waylon (Blue Fairy's Lord of the Rings), their Sire Flash (GCH White River's News Flash) and human companions for a weekend full of fun and friendly competition. We enjoyed 4 days of conformation shows and catching up with our Otterhound friends. For adventure details, photos and video, just follow the link to the Regional Otterhound Specialty 2013.